Hawkish Fed Surprise Bets Are Being Mirrored in European Markets
(Bloomberg) -- The options market has been abuzz about bets targeting a hawkish shift from the Federal Reserve. It turns out the same sort of wagers are being placed on the European Central Bank.
Large bets in Euribor options using so-called risk reversals show traders now have greater conviction that the ECB's next move will be a rate increase, with the biggest targeting higher borrowing costs in late 2024. Their size and strategy is remarkably similar to a stand-out wager in the Eurodollar option market earlier this month that's betting on quicker rate hikes by the Fed.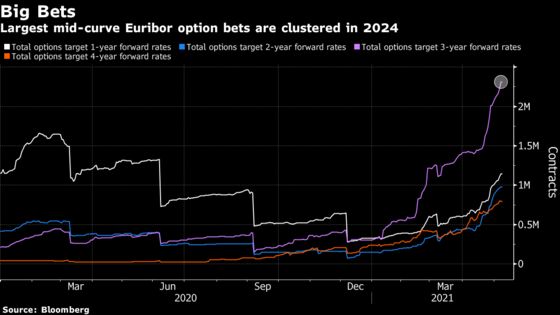 The trades come as ECB Governing Council member Martins Kazaks last week said the central bank could scale back its emergency bond-buying program as early as June if the euro-area economy doesn't deteriorate, an intervention that helped push Euribor futures lower.
The gauge -- a measure of the rate at which bank can theoretically borrow from one another -- currently implies a three-month tenor of minus 0.1% by the end of 2024, yet option bets target an increase to 0.5%. The fixing printed at minus 0.533% on Tuesday after rising to the highest since December on Friday.
The move "is not inconsistent with the widening of peripheral spreads and concerns over the end of extremely accommodative ECB policy," said Antoine Bouvet, senior rates strategist at ING Groep NV. "These factors typically only trickle down slowly into short-term bank financing rates but given the low starting point, it makes sense that we see a modest normalization."
The wagers have been built by selling options, which pay off if rates fall, and use the proceeds to buy puts that benefit from a rise. Friday saw the latest installment, where another round of September and December expiry calls were sold late in the day against a purchase of puts, according to traders who asked not to be identified as they aren't authorized to speak publicly.
The September 2024 100.375 call and the 99.875 put are the largest two single Euribor options in the strategy, each with over 160,000 contracts outstanding. These, combined with other three-year mid-curve options, make up seven of the 10 largest wagers.