Foreigners Piled into Japan Bonds in June with Near-Record Buys
(Bloomberg) -- Overseas funds bought the second-highest amount of Japanese government bonds on record in June as enhanced returns using cross-currency basis swaps and index-linked demand fueled inflows.
Foreign investors purchased a net 4.06 trillion yen ($37 billion) of JGBs last month, just shy of the record 4.42 trillion yen they acquired in December 2018, according to data from the Japan Securities Dealers Association.
The bulk of purchases took place in two- to five-year paper, both of which have negative yields. Overseas buyers using cross-currency basis swaps -- which involves lending foreign currencies for yen -- can enhance yields beyond what's offered by positive yielding domestic debt.
Purchases using cross-currency swaps -- often known as JGB asset-swaps -- may have been one factor which drove the accelerated pace of demand in June, Shoki Omori, a strategist at Morgan Stanley MUFG in Tokyo, wrote in a note.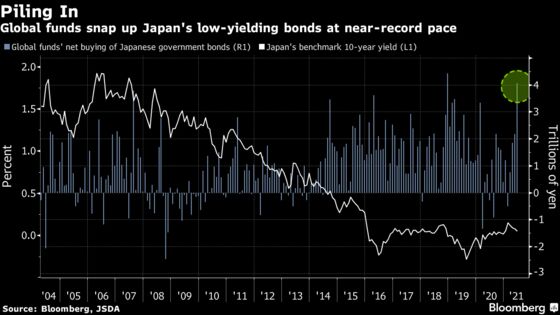 Overseas investors buying five-year JGBs using cross-currency swaps funded in euro or the Aussie dollar can earn around 50 basis points more than from similar-maturity German or Australian paper. Those using the greenback can earn around 30 basis points more than Treasuries.
Index-driven purchases may have also played a role, with this category of funds often obliged to participate, irrespective of yield levels.
"While JGBs themselves aren't attractive, they are included in global funds' indexes and probably benefited from bond buying that accelerated worldwide," said Kei Yamazaki, a senior fund manager at Sumitomo Mitsui DS Asset Management in Tokyo. "Profit-taking in stocks that had been rallying also likely guided money into bonds."
Concerns around the virus outbreak and one-sided positioning have pushed the rate on 10-year Treasuries below 1.20% while similar-maturity JGB yields are approaching zero.