Michael Hasenstab Won't Give Up His Big Bet Against Treasuries
(Bloomberg) -- One of the biggest contrarians in the bond market is holding firm to a long-held wager that Treasury yields are poised to break out even as global growth fears turbocharge the opposing side of the trade.
Franklin Templeton bond chief Michael Hasenstab remains steadfast in his conviction that the Federal Reserve will raise interest rates this year -- putting him at odds with the futures market and the growing raft of Wall Street voices fretting a brewing U.S. downturn.
He's loaded up on interest-rate swaps in the $33.5 billion Global Bond Fund he helps manage to deepen an ultra-short exposure to duration, a measure of sensitivity to shifts in yields.
"U.S. labor markets remain exceptionally strong, while wages and underlying inflationary pressures continue to rise," Hasenstab, chief investment officer at Templeton Global Macro, said in an emailed response to questions.
"We think the Fed needs to stay on course hiking rates toward the neutral rate in 2019," he said, before the Wednesday publication of the minutes from the U.S. central bank's January meeting.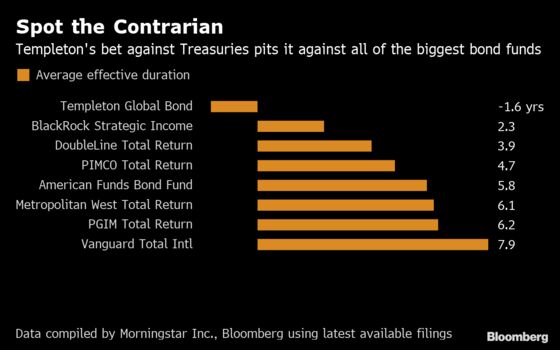 At the Jan. 29-30 gathering, Fed officials were divided over what it would take for them to raise rates again. There was no suggestion of a cut, but policy makers see 2019 marking the end of their balance sheet run-off.
The average duration in the Templeton Global Bond Fund has dropped every quarter for the past two years and stood at minus 1.6 years at the end of December, according to filings.
The strategy wasn't a lonely one last year when Templeton was joined by other fund managers betting that global economic growth would spur government bond yields higher. The wager, along with big investments in select emerging markets, helped the Templeton Global bond fund post a 1.3 percent gain in 2018, compared with a loss for the FTSE World Government Bond Index.
This year, the Fed's dovish shift in concert with a synchronized global slowdown have sent many of Hasenstab's peers fleeing for safety in Treasuries. The compensation investors demand to hold longer-term U.S. bonds over short-dated obligations, known as the term premium, has tumbled close to July 2016 lows -- underscoring the market's conviction that the low-rate, lowflation era will endure.
But for Hasenstab, the continued underlying strength of the U.S. economy justifies the fund's bearish stance overall. He has avoided duration in other developed bond markets but has exposure in a clutch of emerging economies.
"We would likely adjust our view if fundamentals supporting the U.S. consumer began to show persistent deterioration," he said. "Currently, U.S. labor markets remain exceptionally strong, supporting consumer spending levels."