Harvard's Own Admissions Chart Comes Back to Haunt It in Trial
(Bloomberg) -- As claims that Harvard discriminates against Asian-Americans mounted five years ago, a fledgling researcher at the university started playing with the admissions data.
The report he created -- a raft of provocative charts now known as Exhibit P9 -- is the cornerstone of a lawsuit, being tried in federal court in Boston, that calls for the end of race as a factor in the college's review of applications.
On Wednesday, the researcher, Mark Hansen, appeared uncomfortable on the witness stand as a lawyer for the plaintiff, Students For Fair Admissions, sought to cast his early venture into regression analysis as the smoking gun in its case.
"You cannot eliminate the possibility that bias against Asians is negatively associated with Harvard admissions?" attorney John Hughes pressed.
"These models don't establish causal relationships," said Hansen, now with the Massachusetts Institute of Technology, noting that they were hypothetical.
Hansen, in the peculiar position of dismissing his own work, rejected its characterization by Hughes as proof of discrimination and said it wasn't even an effort to determine whether the admissions process was biased.
"That's something I don't have the training to do," he said.
Hansen crafted the report for Harvard's Office of Institutional Research in 2013 to study factors affecting admission, including ethnicity and income levels. One chart, titled "Difference in Average Test Scores and Ratings for White and Asian Applicants," shows Asian-Americans far surpassing whites in standardized testing and academic prowess but faltering in a category known as the "personal rating."
Students For Fair Admissions, led by affirmative action opponent Edward Blum, argues that Harvard uses the personal category and other expedients for "racial balancing," to cap the number of Asian students it accepts while giving what it calls "tips" to other minorities, athletes, and the children of alumni, significant donors and faculty.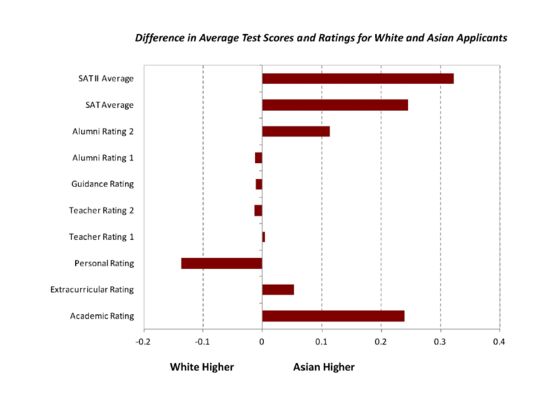 The plaintiff has said the case is about Harvard alone and that "the future of affirmative action is not on trial here." But its bid to replace Harvard's system of achieving diversity with a race-blind protocol could undo a process the Supreme Court has held up as exemplary, throwing race-conscious admissions at colleges across the country into doubt. The high-profile lawsuit, grinding on since 2014, has won the support of President Donald Trump's Justice Department and is widely expected to go all the way to the high court, with its new conservative majority cemented by the recent seating of Brett Kavanaugh.
Hansen's models incorporated variables that Harvard College's admissions office considers when assessing applicants, including legacy status, extracurricular activities, recommendations from teachers and guidance counselors, and interviews with alumni. They showed a steep rise in the number of Asian-Americans who would be admitted if Harvard excluded these factors and used academics only. Hansen, who testified that he never conferred with the college's admissions office in creating the work, insisted it was of little consequence.
"I don't think these analyses were seriously considered by anyone outside our office," he told the court.
U.S. District Judge Allison Burroughs will decide the case, being tried without a jury, after the three-week trial wraps up at the end of next week. At one point on Wednesday, Burroughs, who has interceded frequently with her own questions for witnesses, asked Hansen about the meaning of his report.
"Tell me what these models do show, then," she said.
"Essentially it gives you hypothetical admitted-students pools," he said, "if you considered different factors."
Roger Banks, an admissions officer at Harvard, also testified on Wednesday, about minority recruitment efforts. Harvard College is now 51 percent nonwhite, compared to less than 20 percent around 1980.
Two other admissions officers told the court that race is only one of many factors considered -- as required by the Supreme Court -- and maintained they have never rejected an applicant based on race. An attorney for Harvard asked one of them, Charlene Kim, what her reaction was when she learned the college was being sued for discrimination.
"It was surprise and, I think, concern," she said. "It's not who I know our office to be, and it's not who I am."
On Thursday, Peter Arcidiacono, a Duke University economist hired by the group suing Harvard, told the court "there is evidence of discrimination against Asian-Americans in the admissions process, both in how they rate applicants and in the decisions themselves."
Arcidiacono, whose research focuses on education and affirmative action, said he studied Harvard admissions data for 200,000 applications for the classes of 2014 to 2019 and created models with 300 variables. He also reviewed the application files of more than 200 students as well as files for plaintiffs rejected by the college.
He calculated that Asian-American applicants are 16 percent less likely to get into Harvard than others, while African-American and Hispanic applicants get a major statistical benefit.
"They're being held to a higher standard," he said.
Arcidiacono is to be followed next week by Harvard's own expert economist, David Card of the University of California, Berkeley. In a rebuttal to Arcidiacono filed in June, Card argued that "academic excellence is the most abundant trait in Harvard's applicant pool" and therefore "it is not a particularly effective way for applicants to distinguish themselves."
Card said that by excluding critical information Harvard uses to assess candidates, his counterpart "creates a problem of 'missing data' or 'omitted variable bias' in his models" that creates "a misleading appearance of discrimination against Asian-American applicants."
One of the most withering critiques of the draft report by Hansen, the young researcher, came on Tuesday, when Danielle Conley, a lawyer for Harvard, questioned the college's dean, Rakesh Khurana.
Hansen's 2013 analysis examined the rates for the freshman classes admitted between 2007 and 2016. Khurana noted that one chart was titled "Projected Admitted Student Pools" and said he'd want to know how the data were filled in.
"If you already knew who got in -- which is you already knew the outcome and then that became part of your input -- that's actually problematic from a scientific hypothesis testing perspective," he said. "It would be as if, for example, I already knew what the Powerball numbers are going to be for tonight and I put that into my model before that happened. I'm going to have a pretty high-similarity outcome in that way."
Asked whether he had discussed the report's findings with anyone, Khurana said "there was nothing to discuss. It didn't reflect how Harvard College admissions process works."