Harvard Coach Says Ivy Football Playoff Ban Will End 'Someday'
(Bloomberg) -- Harvard University football coach Tim Murphy expects the Ivy League to eventually let its football teams compete for a national title, bowing to a longstanding demand from fans and participants.
Regardless of how high they're ranked in the Football Championship Subdivision, the second tier of Division I, Ivy League teams aren't allowed to play in the NCAA's postseason tournament. It's a self-imposed restriction that's been a hot topic within the eight-school league for the past few decades.
Harvard, for example, has 42 Division I varsity sports, Murphy said. And all 41 that aren't football can compete in the postseason.
"I think it will happen someday -- it's a no-brainer," Murphy said on the Bloomberg Business of Sports Podcast. "It's just not the time, apparently."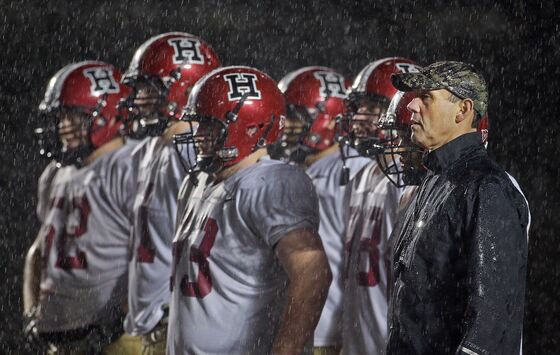 Ivy football coaches have long advocated for a change, while university presidents, the ones with the ultimate power, have resisted. Their concerns stem partly from tradition and partly from the fact that the 24-team FCS playoffs could add five more games and extend into January, which is taxing for students physically and academically.
Robin Harris, the conference's executive director, told reporters last year that despite many discussions, the presidents were "very comfortable" with the status quo.
That said, there's reason to believe change may come soon. After years of shunning many commercial opportunities, the conference has begun marketing itself more. In 2017, for example, it became the last Division I basketball conference to create a postseason tournament to determine its automatic entry in March Madness.
Murphy, who's been Harvard's football coach for 26 seasons, has won nine Ivy League championships. Three of those teams went undefeated. According to the school, Harvard has a .767 winning percentage over the past 19 years, the second-best record in the FCS. And it's not the only Ivy League team that's shined. Two years ago, Princeton went 10-0 and finished the regular season ranked No. 8 nationally in the coaches poll.
Asked if there was a business argument to be made for participating in the playoffs, Murphy said it was more of a fairness issue.
"We've got some tremendously bright people across the board in the Ivy League," he said. "I think they're all going to come to the same conclusion, that it doesn't really make sense to have just one team that's not allowed to go that route."