Harvard Aims to Double Undergrads Living on Campus Next Semester
(Bloomberg) -- Harvard College is inviting as many as 3,100 undergraduates to live on campus next semester, accelerating a return even as public health officials warn the spread of Covid-19 in the U.S. will make for a difficult winter.
Priority will be given to all seniors, as well as juniors who complete the fall semester and first- and second-year students who lack conditions to successfully learn from home, the university announced Tuesday. Harvard said it made the decision because it had a positivity rate well below the surrounding Boston area this fall, with just 38 cases in its residential community.
"There has been no evidence of transmission among members of our undergraduate residential population," Harvard administrators led by President Lawrence Bacow said in a letter to students and faculty.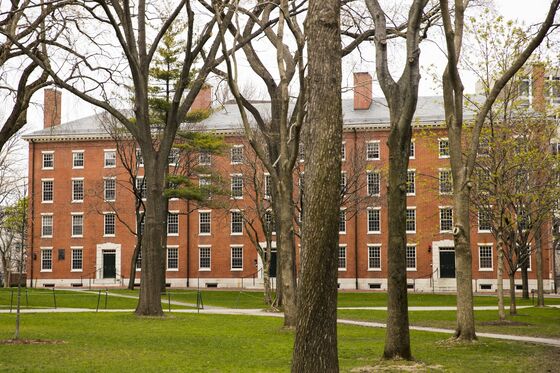 The pandemic has pummeled U.S. higher education, sapping revenue from tuition, room and board. Some schools that were more aggressive in bringing back students in the fall struggled with outbreaks. The University of North Carolina at Chapel Hill, for example, told students to return home just a week after classes began.
Harvard took a more measured approach, as did fellow Ivy League member Princeton University, which is inviting all enrolled undergraduates to return for the spring semester.
Despite the increase in students being offered housing, campus life at Harvard won't return to normal next semester, which begins Jan. 25. Dorm rooms will be limited to one person, students will still be subject to virus testing and instruction will continue to be "fully remote."
About 1,500 undergrads lived on campus this fall, mostly freshmen and those who needed to return for academic needs. Harvard had invited as much as 40% of the undergraduate population, but many chose not to return to Cambridge.
Giving the rising cases across the country, the school warned students that plans could change.
"If circumstances continue to deteriorate across the nation, we are prepared to respond quickly with appropriate contingency plans that would reduce expected campus density before the start of the spring term," the administrators wrote.