Han Solo Battles Tougher Movie Reviews, Galactic Bad Guys
(Bloomberg) -- Han Solo has been frozen in carbonite, made the Kessel Run in less than 12 parsecs and helped blow up a Death Star or two, but more than the fate of the Galactic Republic rests on his leather-jacketed shoulders.
With the new film "Solo: A Star Wars Story" hitting theaters Friday, Walt Disney Co. is trying to blend the familiar Solo, Lando Calrissian and Chewbacca characters with a new, younger generation of stars. It's part of an ongoing effort by the world's largest entertainment company to capitalize on the heroes and stories created by George Lucas, a strategy it has also deployed with Marvel Entertainment to dominate the box office.
The film is a rollicking ride through hyperspace, starring Alden Ehrenreich as the charming smuggler and Donald Glover as his suave partner in crime, Calrissian. But there are warning signs. Box Office Pro has been paring estimates for "Solo," with analysts now predicting weekend sales of around $120 million over three days in North America, the lowest of the "Star Wars" pictures Disney has released. The studio expects up to $150 million over four days, a record for Memorial Day.
Critics are also less upbeat about "Solo" than Disney's other "Star Wars" movies, giving it an average 72 percent approval on RottenTomatoes.com -- the lowest score since "Star Wars: Episode II -- Attack of the Clones" in 2002.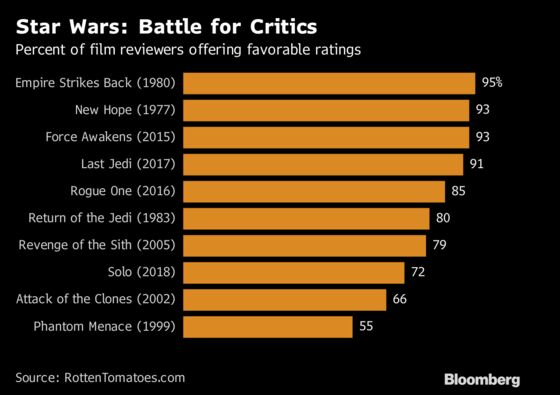 Part of the problem may be the franchise's long legacy, going back more than 40 years. The characters are so beloved by older moviegoers that it's hard to make changes. It's also tough to connect with younger audiences who have grown up with the Marvel pictures.
"The 'Star Wars' mythos has a deeply rooted history in cinema," said Shawn Robbins, chief analyst at Box Office Pro. "With that comes many preconceptions by older fans relating to what the movies should and shouldn't be."
The movies also have seen production turmoil, suggesting Disney itself has wrestled with getting the films right. Last year, the company replaced "Solo" directors Phil Lord and Christopher Miller in the middle of filming, asking Oscar winner Ron Howard to take the controls. "Rogue One: A Star Wars Story" was extensively reworked.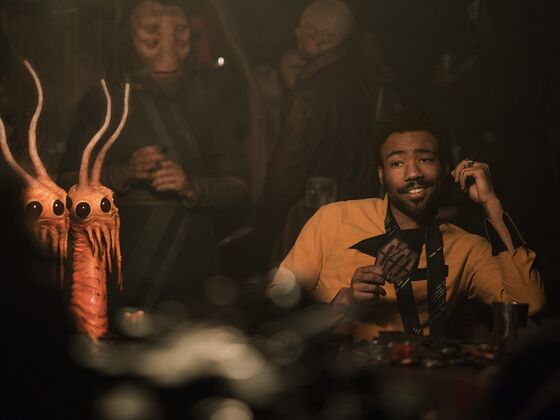 "We don't let production struggles or challenges get in the way of us making a good film," Disney Chief Executive Officer Bob Iger said at the premiere of "Solo" on May 10. "It takes a lot of guts and a lot of investment."
Sales of toys and other merchandise, an area where "Star Wars" long dominated, also seem to be losing steam. In 2016, the most recent year for which numbers are available, "Star Wars" generated about $3 billion in merchandise revenue worldwide, according to the Licensing Letter. That was a bit ahead of the combined $2.75 billion for "Avengers" and "Spider-Man."
Last year, sales began to slide, according to Karina Masolova, executive editor of the publication. She predicts Marvel products will top "Star Wars" this year.
Studios rarely reveal the full cost of their movies, and Disney is no exception with the latest release. Variety estimates "Solo" cost more than $250 million, before marketing expenses.
For now, though, it's hard to argue Disney's strategy has been anything but a hit. The studio has dominated the box office for almost three years, and has commandeered a third of domestic ticket sales this year, thanks to Marvel.
Since the studio resurrected the series with "Star Wars: The Force Awakens," its three movies have averaged a net profit of $871 million, according to Wade Holden, an analyst at S&P Global Market Intelligence. That compares with $470 million for the last eight Marvel movies. His projections take into account all revenue sources for a movie, including merchandise.
Still, by releasing films from two of its biggest franchises in less than a month, Disney invites comparisons with Marvel. In late April, the company scored the biggest North American weekend debut of all time with the $258 million haul by Marvel's "Avengers: Infinity War." That beat the mark set by "The Force Awakens" in 2015.
In "Solo," which opens at almost 4,400 North American locations, Ehrenreich's character is on a quest to rescue his first love. He finds the Millennium Falcon spaceship and a band of space outlaws. He also meets his furry co-pilot, Chewbacca.
With the new film, Disney has a trump card: Donald Glover is one of Hollywood's hottest properties. His television series "Atlanta" is lauded. He hosted "Saturday Night Live" earlier this month and released a debate-stirring music video under the moniker "Childish Gambino," with his song "This is America" opening at the top of the music charts. Kathleen Kennedy, Lucasfilm's president, has teased that Glover may get his own "Star Wars" movie.
The latest installment also opens Friday in China, where the franchise has yet to reach hit status as fans lack exposure to generations of "Star Wars" films on which to build a tradition.
Disney's forecast for "Solo" is tempered by the summer release schedule, which is more competitive than the mid-December period when past "Star Wars" films were released. The picture is up against 21st Century Fox Inc.'s "Deadpool 2," now in its second week, with the next big action film, Universal Pictures' "Jurassic World: Fallen Kingdom," due on June 22.
Nonetheless, it's possible that "Solo" breaks the record for a Memorial Day weekend debut, set by Disney's "Pirates of the Caribbean: At World's End," with $140 million in 2007.
"Everybody would love to have Disney's problem," said Jay Tucker, executive director of UCLA's Center for Management of Enterprise in Media, Entertainment and Sports. "I wouldn't bet against 'Star Wars.'"