Hammond Promises 'Deal Dividend' in Warning to Brexiteers
(Bloomberg) -- Philip Hammond said reaching a Brexit deal with the European Union would deliver a boost to the British economy and allow him to plot a path out of austerity.
An agreement would free him to scale back the war chest he's holding to safeguard the economy against a no-deal departure from the bloc, the U.K. chancellor signaled Friday in Bali where he is attending the International Monetary Fund annual meeting.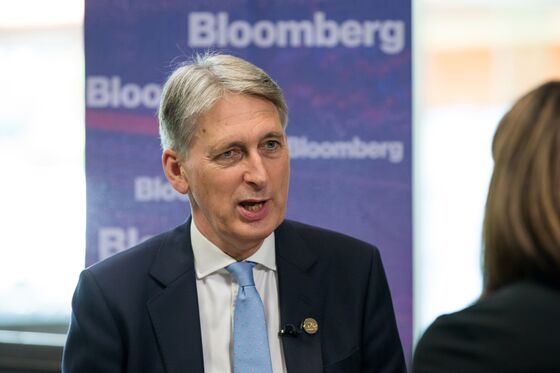 "I've been holding perhaps slightly larger amounts of fiscal buffer than would otherwise be necessary because of the unusual degree of uncertainty that exists at the moment," he said.
"As that uncertainty is unwound and we're in more favorable circumstances, logically one would need a little bit less of a fiscal buffer and some of that could be released to support the spending envelope or to deliver tax cuts, or to pay down the debt more quickly," he said.
Hammond is committed under his fiscal rules to keeping the structural budget deficit to less than 2 percent of gross domestic product in 2020-21. In March, his fiscal watchdog, the Office for Budget Responsibility, projected borrowing of 1.3 percent, giving him around 15 billion pounds ($20 billion) of headroom against the target.
Britain and the EU appear to be edging closer toward a deal but the dangers for Prime Minister Theresa May are rising, with at least one pro-Brexit Cabinet minister said to be considering resigning over a compromise that would tie the U.K. into European Union trade rules indefinitely. The message from Hammond to his colleagues is either back the premier or face continued fiscal pain.
In his budget on Oct. 29, Hammond will outline how he intends to pay for the extra 20 billion pounds the government has promised the cash-strapped National Health Service. The pledge matches a demand made by pro-Brexit campaigners before the 2016 referendum and some tax increases are expected to be announced to help fund it.
"I am a fiscal conservative," Hammond said. "I don't like raising taxes but I also don't like out-of-control deficits."
Hammond held out the prospect of a fiscal dividend from a Brexit deal, saying the OBR's forecasts are based on a midpoint between a no-deal outcome and membership of the European Economic Area.
"The package that the prime minister is seeking to negotiate, in terms of its impact on the U.K. economy is well above that midpoint and therefore if we're successful in negotiating that package, there will be an upside dividend in terms of the economy and consequently the fiscal numbers," he said.
The claim that austerity is coming to end, made by May to her Conservative Party conference this month, has been widely questioned by economists. One of the problems is that there is no single definition of what it means.
JPMorgan economist Allan Monks said Hammond could not truly abandon austerity -- removing the drag on growth -- without relaxing his commitment to erase the structural deficit by the middle of the next decade, something a "fiscal conservative " like Hammond may be unwilling to do.
"While there is a risk that austerity is paused for political reasons next year, we expect this year's October Budget will stick to the same broad script of projecting modest tightening equivalent to an average of 0.1 percent to 0.2 percent of GDP per year," he said in a research note.