Halfway Back From Brink, Stocks Sit Still as Investor Mood Heals
(Bloomberg) -- Anyone with a sense of symmetry can appreciate the S&P 500 Index right now. After bouncing all year, the equity benchmark just spent a week sitting at the precise midpoint of this year's trading range. A perfect 50 percent retracement, in the language of technical analysis.
Which is to say, it's stopped moving -- at least for the last two weeks. After one of the most chaotic quarters of the bull market, stocks have settled back into the slumber that prevailed for the previous 20 months.
Not everything's stuck. Earnings forecasts keep rising. After surging earlier in the month, yields on 10-year Treasuries have fallen squarely back below 3 percent. And perhaps reflecting the overall calming down in prices, gauges that measure mood among investors have registered signs of improvement.
Data from Investors Intelligence's weekly survey show newsletter writers classified as bulls at 49 percent, the highest in two months. Statistics from Ned Davis Research Inc. reflect a similar trend. Add to that notable gains in a handful of market darlings -- the FAANGs, which got back to record territory week -- and some see a foundation for gains.
"Earnings have been fantastic, the economic data is solid if not spectacular, meaning we would get a decent economic growth that won't be fast enough for the Fed to accelerate the tightening cycle," said Ed Clissold, chief U.S. strategist at Venice, Florida-based Ned Davis. "Things are looking better than they did just a few months ago. All these things together are the reasons for investors to be optimistic."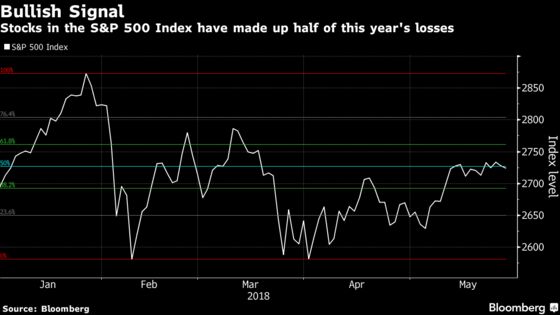 During a week when news from North Korea and the U.S.-China trade talks dominated headlines, the S&P 500 fluctuated around 2,727, the midpoint of its 2018 range. Pulling sentiment upward was the buoyancy of 20 percent earnings growth, record buybacks and a stable economy. Holding it back was geopolitical angst and concerns about trade.
To see how little has been accomplished this year, consider 2017's close. The S&P 500 has traded within a 2 percent band around last year's closing price of 2,673.61 for 52 days this year, or 55 percent of the time. Over the past two decades, such a small range has persisted only twice before, in 2014 and 2015.
The S&P 500 rose 0.3 percent in the second weekly advance in the past month. The Nasdaq 100 Index gained 1.4 percent. The Dow Jones Industrial Average increased 0.2 percent.
To Peter Cecchini, global chief market strategist at Cantor Fitzgerald, nothing much exists to shake U.S. shares out of their funk, other than maybe investors deciding they're more worried about emerging markets. Longer term, between rising interest rates and concern about global growth slowdown, the risk is to the downside, he said.
"Investor sentiment is complacent overall," Cecchini said. "It's like the Pavlovian response -- you press a button and you get a reward. The thing that has rewarded investors over time is being long stocks and not worrying about things too much. But this is changing."
That's the thing about sentiment -- one person's optimism is another's complacency. Whatever the interpretation, levels of bullishness are creeping higher even as stocks trade sideways. Investors Intelligence's weekly survey of newsletter writers shows 49.1 percent of investment advisers were bullish on the stock market in the week ending May 22, while 19.2 percent were bearish, the lowest in seven weeks.
Ned Davis looks at market indicators such as the put-to-call ratio and blends them with sentiment readings from individual and institutional investors. By the firm's calculations, bullish sentiment on U.S. stocks is about where it was in January. Not at the peak, but closing in on it.
With next week's volume likely to be thinner than usual as traders take time off after a U.S. holiday, political headlines from Washington may hit the market with more force, according to Jack Ablin, chief investment officer at Cresset Wealth Advisors.
"Political drama is not over, and any negative news may put investors on edge," Ablin said. "I am not terribly concerned overall, but it's probably not the time to be complacent."