H&M Rises With a Different Kind of Shorts in Focus: Street Wrap
(Bloomberg) -- With short interest still at elevated levels and buyout speculation swirling, it didn't take much to send Hennes & Mauritz AB's shares soaring on Thursday.
Positive comments on gross margins and on reducing the retailer's bloated inventory caused sellers who have pushed the stock down almost a third in the past year to take cover. The shares were up 11 percent at 11 a.m. CET.
While third-quarter earnings were weaker than expected, analysts pointed to H&M's outlook for a slightly positive market situation for external factors in the fourth quarter. Although inventory remains high, the quality and balance is better, the company said.
The share surge wiped out as much as 34.4 million krona ($3.9 million) from the paper value of speculators' bearish bets, according to data compiled by Bloomberg and IHS Markit Ltd. Some of those short sellers may have made a profit on their H&M trades before Thursday, as the stock had fallen about 12 percent this year through to Wednesday's close.
Speculation of a buyout by Chairman Stefan Persson has been fueled by his regular share purchases, although he's repeatedly denied that such plans exist.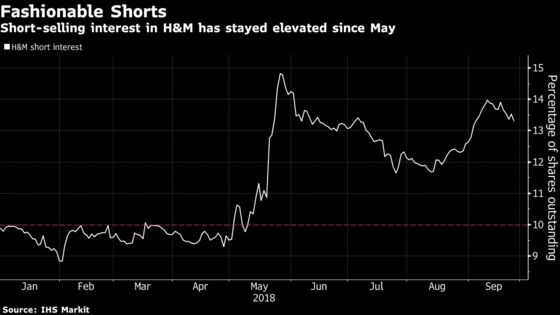 Here's a round-up of what analysts are saying:
(Underweight)
Third-quarter results came in below already low expectations. This reflected "inevitable pain points" in what probably is a "sensible longer-term turnaround." One-off costs had "been into consensus and our thinking," however the size was underestimated.
Goldman Sachs, Richard Edwards
(Sell)
Consensus likely to be unchanged, other things being equal. Net store openings of 240, following gross openings 380 and closing of 140, compared with broker's 220 estimate.
Berenberg, Michelle Wilson
(Sell)
Inventory levels are still too high, but H&M says it can be cleared without any further increase in write-downs y/y. With positive external factors, this suggests that gross margin should improve y/y from 4Q.
Morgan Stanley, Geoff Ruddell
(Underweight)
Sees full-year consensus profit forecasts remaining broadly unchanged, though the risk remains very much to the downside. Key positive is that in the 66 markets where sales were not disrupted by logistics issues, 3Q sales were up 8% in local currencies, which implies positive like-for-like growth. Results were weaker than expected.
NOTE:
Marshall Wace, Maverick Capital, Old Mutual Global Investors and Man Numeric are among investors with short positions in H&M, according to data compiled by Bloomberg sourced from regulatory filings. Marshall Wace, OMGI and Man Numeric declined to comment. Maverick Capital didn't immediately respond to a request for comment.