H.K. Treasury Chief Says Business as Usual After Asset Freeze
(Bloomberg) -- Hong Kong's top treasury official rejected concerns that the expansive Beijing-imposed security law will damage the city's status as an Asian hub for business and finance.
In an interview on Monday, Secretary for Financial Services and the Treasury Christopher Hui said he's heard no concerns in contacts and engagements with the business community.
"Hong Kong is basically what it is -- very much business as usual," Hui said at his office overlooking the Victoria Harbor. "People see a lot of opportunities here."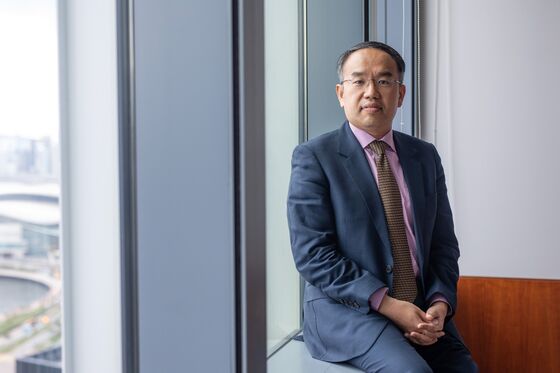 But concern is growing over the security law's broader impact after a spate of new measures. The law was last week used for the first time to freeze assets of a major investor -- the holdings of media mogul and activist Jimmy Lai, who has pleaded guilty to organizing an unlawful assembly. Authorities have also overhauled elections, arrested pro-democracy lawmakers, enacted a law that could restrict people from leaving and is mulling a crackdown on "fake news."
While major firms including Citigroup Inc., HSBC Holdings Plc and Goldman Sachs Group Inc. are boosting hiring in the city as they prepare for major expansion in China, unease has spread in the business community.
More than 40% of members surveyed by the American Chamber of Commerce in Hong Kong said they might leave, highlighting concerns over the security law and the handling of Covid-19. The International Chamber of Commerce - Hong Kong argued limiting access to the city's company registry could mean the government unwittingly "encourages corruption, money laundering and fraud."
The Oxford-educated Hui, echoing comments of other top officials, said the security law enacted last June has worked to restore stability after sometimes violent protests rocked the city in 2019.
On the company registry, the government has been balancing the need for professionals to access the records as well as the privacy of company directors, whose names, identification and residential addresses have been on a public record for inspection.
Hong Kong will continue to attract business because of its role as a link to mainland China and its rule of law, strong financial regulations and its wealth of experts services including in law, accounting and banking, according to Hui.
"I always jokingly say that Hong Kong is the place where you can sue the government and still win," he said. "That's something that has been in place for a long, long time and will continue to be so."
The city is now pushing hard to lure more money managers to town as it vies with Singapore to be a hub for wealth management.
It has rolled out brand new structures for Limited Partnership Funds and Open-ended Fund Companies, seeking to attract more of the $476 billion controlled by private equity firms and venture capitalists across Asia Pacific. The plan offers incentives, including zero tax on carried interest and reimbursement on some of the costs if they move to Hong Kong.
The city's plan has already attracted "a lot of interest," Hui said, declining to give more details.
Hong Kong is also working on putting a listing regime in place for special purpose acquisition companies, even though a boom in such deals seen earlier this year in New York has petered out.
The public could see the proposal "very soon," he said.