Gun Sales Fell in November
(Bloomberg) -- Firearms sales fell in November, despite the Black Friday shopping holiday. 
There is no exact count of firearms sold in America, but a common barometer is the FBI's National Instant Criminal Background Check System.  Adjusted for permit checks, such as concealed-carry applications, November's checks fell by 9.8 percent compared to 2017, totalling 1,314,193. The number was "in line with our sense of expectations" analyst Brett Andress at KeyBanc Capital Markets wrote in a note on Monday. 
Handgun sales suffered more than long guns, down 14.3 percent and 10.6 percent, respectively. Nearly every state experienced a decrease in checks, with the exception of Washington, Hawaii, and Minnesota, according to the KeyBanc note. 
Black Friday sales this year were down more than 10 percent from 2017 to 182,093. Despite the decline, 2018 was still near historic highs, nearly double the number of checks performed a decade ago.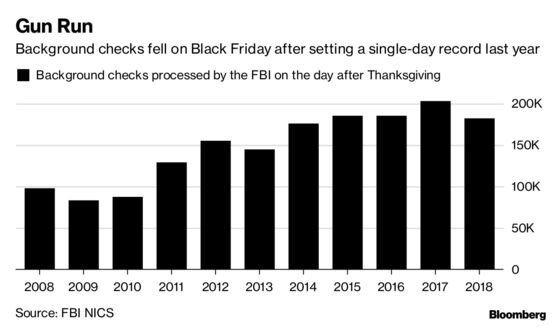 The National Shooting Sports Foundation attributed this drop to retailer promotions which began prior to Black Friday. 
"At a meeting between NSSF staff and FBI personnel at the NICS headquarters in October, the FBI was actually pleased that many retailers were doing promotions in advance of or in addition to Black Friday," Joe Bartozzi, president of the firearms trade association, wrote on the group's website last week. "By doing this, both the retailers and the FBI-NICS system were alleviating the stress and strain of an extremely high volume of checks on Black Friday alone."