Gulf Widens Between Mexico and Private Analysts on GDP Outlook
(Bloomberg) -- Mexico's finance ministry is sticking to its 2% economic growth forecast for this year, even as private-sector economists slash their estimates.
Analysts have repeatedly trimmed their outlook and now see the economy expanding 1% this year, down from 1.7% six months ago.
President Andres Manuel Lopez Obrador's administration has access to more information than the private sector, who base their projections on "historic information" about trends and cycles, Deputy finance minister Gabriel Yorio told reporters on Friday.
He said the government is taking steps to boost growth via instrastructure spending and reforms in the financial sector, without providing details. The government published its 2% forecast when it presented its budget to congress in September.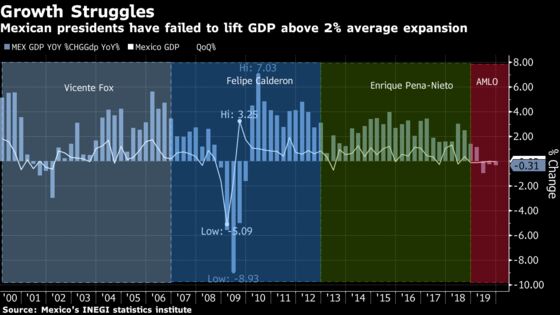 Preliminary data released on Thursday showed that the economy was flat in the fourth quarter as industrial output shrank, capping an economic contraction in 2019, the first year of Lopez Obrador's term.