Grocer Looks to U.K.'s Resurgent Post-Brexit Junk Bond Market
(Bloomberg) -- British grocer Iceland Foods is planning a sale of sterling-denominated high-yield bonds, an asset class enjoying newfound popularity since the U.K. reached a trade agreement with the European Union late last year.
Iceland is meeting investors on Wednesday to outline plans for a 250 million-pound ($346 million) offering, Bloomberg reported earlier. Representatives at the company declined to comment on the plans.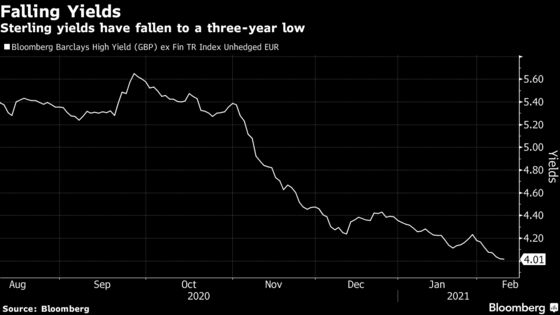 The deal follows a much larger 2.7 billion-pound offering by rival Asda Group Ltd., which encountered massive demand from investors. That sale is widely seen as a major boost for the sterling high-yield market which until recently was one of the least loved in credit. Britain's uncertain economic future during years of bad-tempered Brexit negotiations with the EU kept the country's asset markets out of favor until it signed a deal in the final days of 2020.
"We could see a pick up in sterling issuance this year as sentiment around the region improves post Brexit," said Ben Pakenham, head of European high-yield and global loans at Aberdeen Standard Investments in London.
The sterling high-yield market has become a friendlier place for borrowers since the start of 2021. The average yield on sterling junk bonds, an indication of borrowing costs, has fallen to 4% from 4.4%, according to data compiled by Bloomberg.
Like other grocers, Iceland has faced a competitive challenge from low-cost rivals such as Aldi and Lidl that's impacted sales. However, the company achieved a "very strong" operating performance thanks to higher consumer spending on groceries during 2020, S&P Global Ratings said in a report on Wednesday.
Adjusted gross leverage remains high still and will reach seven times earnings in the year to March 2022, Fitch Ratings said in a note. The new notes will be rated B by S&P and Fitch.
Credit-default swaps insuring exposure to Iceland's debt have fallen 13.8 basis points since news emerged of the bond sale, hitting the lowest since March 2019, according to CMAI data.
South African billionaire Christo Wiese's Brait SE sold a majority stake in Iceland Foods to a group led by its founder Malcolm Walker for 115 million-pounds in June.