Rams Coach McVay – at 33 – Fits Easily on the Gridiron or in the C-Suite
(Bloomberg) -- Sean McVay, the Los Angeles Rams' star head coach, could just as easily be sitting atop a Fortune 500 company as a Super Bowl-bound football team.
That's the view of his boss, Rams Chief Operating Officer Kevin Demoff, who has staffed the National Football League team's front office with executives whose previous career stops include Yahoo! Inc., Walt Disney Co. and Hershey Co. He sees the 33-year-old McVay -- the youngest head coach in Super Bowl history -- as someone who could easily go from the football field to the C-suite.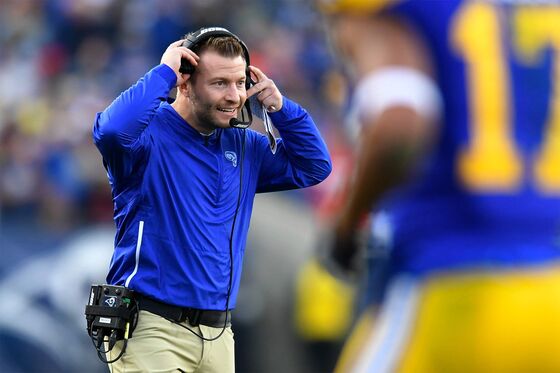 "The most important thing is emotional intelligence, the ability to lead, the ability to communicate," said Demoff, the club's top executive and liaison to billionaire owner Stan Kroenke. "He's that good of a leader."
McVay will need all those skills Sunday in Atlanta when the Rams take the field against the New England Patriots, facing a team led by five-time Super Bowl-winning quarterback Tom Brady and head coach Bill Belichick, the most-successful duo in NFL history.
McVay was named the team's coach in 2017, becoming the youngest in modern NFL history. According to Demoff, the Rams were willing to be patient with McVay, who previously spent three seasons as the offensive coordinator of the Washington Redskins.
"Everybody said Sean was a superstar," Demoff said. "They just didn't know when he'd be ready."
In his first season as coach, the Rams went from dead last in scoring to No. 1. It was the first worst-to-first scoring turnaround in NFL history. The Rams finished the season 11-5, earning their first playoff berth since 2004.
During the interview process, it literally took McVay five minutes to erase any doubts that he was the right person, Demoff said. "As soon as Sean started talking, we all looked at each other," he said. General Manager Les Snead "wrote down five minutes in, 'Age doesn't matter.' This was a generational-type leader."
Demoff said one advantage of a younger coach is his familiarity and comfort with technology and social media. McVay, for instance, uses technology to teach, touting efficiency and keeping players engaged.
At the outset of the team's coaching search, Demoff said his research unearthed one significant data point surrounding really young coaches.
"They either won Super Bowls and went to the Hall of Fame," he said, "or they're ridiculed -- jokes for a lifetime."