Greek Bondholders Bet on Once Unthinkable Investment-Grade Rally
(Bloomberg) -- A one-time market pariah may be on its way back to the bond world's top tier.
Less than eight years ago investors in Greek debt were caught out by the largest sovereign restructuring in history, costing funds tens of billions of euros. Now, optimism in the country's creditworthiness is growing and buyers are returning in droves -- including some of those who got burned in 2012.
"It's only a matter of time until Greece achieves an investment-grade rating," said Kaspar Hense, a portfolio manager at BlueBay Asset Management, which owns Greek government bonds. Hense, who was a private investor in Greece back in 2012 and had to wait for years before breaking even, now sees Greece as a "core holding" at BlueBay.
A transformation in market sentiment has already cut Greece's borrowing costs to record lows, allowing the nation to sell its longest new bond in more than a decade. A return to investment grade after about 10 years, following economic reforms and a banking clean-up, would boost the bonds even further as high-grade-only funds managing trillions could start buying the debt.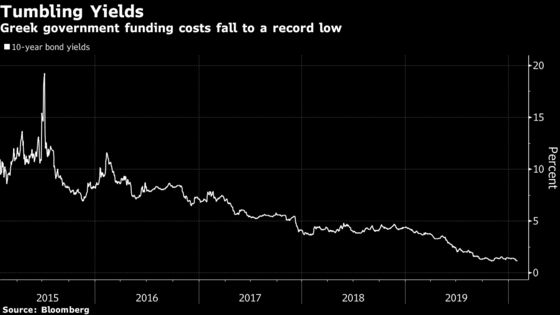 Greece is keen to shed its reputation as an unreliable investment and recipient of the biggest bailout in global financial history. The country met its primary surplus target for 2019 and is on course to do the same in 2020, according to the Greek government, leading to calls from Prime Minister Kyriakos Mitsotakis for the lowering of fiscal targets from 2021. While it has no financing needs for 2020, the government plans to issue as much as 10.65 billion euros of debt to take advantage of record-low borrowing costs.
Greece's debt-to-GDP ratio fell to about 185% in 2019, and while that's still the highest in the euro area, it's a trend the Greek government projects will continue. The Greek economy is also expected to have grown around 2% last year, above the European Union average.
"Perception has clearly changed," said Dimitris Dalipis, head of fixed income at Alpha Trust Mutual Fund Management SA, which bought into this week's 15-year debt syndication. Moving into "investment grade in 18 months won't be easy but it could happen," he said.
Given Greek bond yields are close to Italy's across all maturities, the case can be made that Greece is already trading like an investment grade country. Five-year debt currently offers an even lower yield than Italy's, though it is still well above Portugal and Ireland, which also received bailouts in the wake of the financial crisis.
The nation certainty took another step toward that coveted investment-grade status this month with Fitch Ratings lifting it to BB, or just two levels below high grade. The ratings provider has a positive outlook, signaling the potential for a further move in the coming year.
S&P Global Ratings will review the country on April 24. It has Greece at BB-, or three steps below investment grade, also with a positive outlook. Moody's Investors Service has a one-step lower rating. Ratings providers generally review countries every six months.
Promotion to investment grade could jet-propel Greek bonds, even with 10-year yields already touching a record-low 1.14% Friday. Yields on similar-length Portuguese notes tumbled 110 basis points in 2017 to below 2%, as the country regained investment grades at S&P and Fitch. Moody's followed suit a year later.
Rising expectations for an eventual Greek promotion, and tumbling bonds yields across Europe, have helped the nation syndicate 17.5 billion euros of bonds since the start of 2017, based on data compiled by Bloomberg. That's after being shut out of the market for six years amid a spike in funding costs caused by concerns about a potential default.
Greek companies have also benefited from the shift. National Bank of Greece SA and Piraeus Bank SA both sold subordinated debt last year, while Hellenic Telecommunications Organization SA achieved a then-record low coupon for a junk bond sale last September.
For Greek funds, exiting their positions in Greek sovereigns wasn't always an option ahead of the 2012 restructuring due to mandates to invest in domestic bonds. Still, some are buying back in now the outlook is more stable.
"We have been long the longer-dated Greek debt for quite some time now, and we still think there is room for yields to fall further as economic conditions continue to improve and the country continues its ratings climb towards investment grade," said Aris Papageorgakopoulos of Eurobank Asset Management Mfmc SA, who bought into this week's auction.
The Athens-based investor opted to reduce his exposure to the minimum allowed under his mandate before the debt restructuring. Yet the memories of 2012 are not deterring his faith in Greek bonds for the decades ahead. "The situation is quite different now from back then, so the outlook is optimistic," he said.
Returning to investment grade isn't a done deal. Fitch highlighted Greek challenges including the lowest level of gross fixed investments among European Union members, even as it upgraded the nation. Local banks' progress in clearing "very high" levels of bad debt also has some way to go, it said.
Greece needs investments to reduce unemployment and boost output. Winning back investment grade this year "looks tough," agreed Vasco Teles, a fund manager at Grupo Novo Banco Gestão de Activos, who also bought into this week's 15-year sale.
Still, the country could sell almost 10 billion euros of bonds in 2020 providing a "cash cushion" for the next few years, he said.
Greek bond returns may cool, with the collapse in yields having already handed holders of 10-year bonds almost 30% since last March. That made them easily the best performers among developed economies last year.
Greece is "moving in the right direction," said Iain Stealey, international CIO of fixed income at JPMorgan Asset Management, another owner of Greek government debt.