Greek Bank Chiefs Say They Can Handle Loss of ECB Waiver
(Bloomberg) -- Greek bank bosses brushed off concerns that the end of a special rule giving them access to the European Central Bank's cheap money will spell trouble.
The expiry of Greece's bailout program last week came with a catch. It ended outside control of Greece's economic policy, but forced the country's banks to stand on their own two feet again, even though they still have the worst bad loan problem in Europe. While the program ran, the ECB waived a rule stopping it from accepting the country's junk-rated sovereign bonds as collateral. As such it was able to supply vital liquidity.
At the peak of the debt crisis, Greece's banks needed over 150 billion euros ($175 billion) of liquidity from the ECB, having lost almost all interbank funding and much of their deposit base. That need has now fallen to only 13 billion euros, as of the end of July. Of that, only around 3.5 billion is backed by Greek government collateral that is now ineligible for ECB operations.
As such, all four chief executive officers of Greece's systemic lenders told Bloomberg News they're confident they can get by.
"Greek banks have already substituted the bulk of the emergency liquidity at peak crisis with market funding," said Fokion Karavias, chief executive officer of Eurobank Ergasias. "Bar a significant further deterioration of market conditions, we expect no difficulty in using the remaining Greek government bonds for similar market transactions."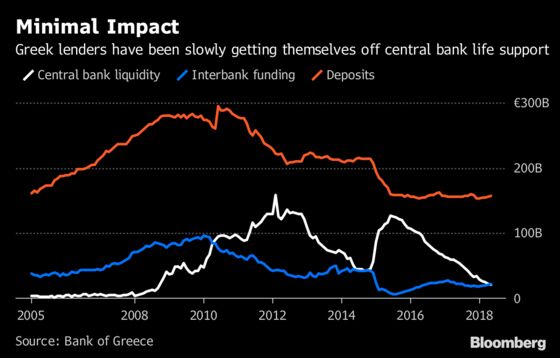 The impact from not being able to use Greek government debt will be "minimal," said National Bank of Greece chief executive Paul Mylonas.
Christos Megalou, chief executive of Piraeus Bank, went further, describing the removal of the waiver as "practically a non-event." His bank, the country's biggest by assets, has taken measures to shift about 1 billion euros of ECB funding onto the interbank repo market, he said.
Alpha Bank has maintained funding lines from the ECB by substituting Greek government bonds and treasury bills with other ECB-eligible assets, according to its chief executive, Demetrios Mantzounis. Greece's fourth-biggest lender has also increased its open market repo transactions with international counterparties, he said.
Not everyone is so upbeat. All four of the bank's stocks hit new 2018 lows as the waiver ended, amid fears that they aren't yet strong enough. The International Monetary Fund warned in July that the banks should raise more capital. It warned that over half of their core capital was in the form of deferred tax credits, "which provide limited loss absorption, deter private equity investors, and pose a potential budgetary cost."
As the Greek banks prepare to report their financial results for the first half of the year this week, the banks' bosses said that what Greece needs most is to follow through with the reforms that will attract investment.
The major challenge ahead for the banks will be managing the stocks of non-performing exposures, which at close to half of all loans are the most in the euro area, according to Eurobank's Karavias. In the following months, they will be presenting regulators with plans to reduce the ratio to the mid-teens by the end of 2021, he said.
Greece remains Europe's most indebted country as a proportion of gross domestic product, and the economy is still struggling to recover from the loss of more than a quarter of its output during the crisis. The unemployment rate is still almost 20 percent, making it hard for people to repay their bank loans.
"Additional improvement in confidence to attract both domestic and foreign investment requires the steady implementation of structural reforms, and a rebalancing of the tax burden," said National Bank's Mylonas. "The main risks other than implementation fatigue arise from external factors," with the country's two largest neighbors -- Turkey and Italy -- both experiencing economic difficulties, he said.