Greece Declares It's Back in Bond Markets After Near-Record Sale
(Bloomberg) -- Greece attracted bumper demand in its first sale of 30-year bonds since 2008, completing the country's full return to debt markets.
The nation drew in more than 26 billion euros ($31 billion) of orders for its 2.5 billion-euro sale via banks. That showed investors' long-term confidence and appetite for a yield at nearly 2% that is the highest in the euro area. The demand, just shy of a record set earlier this year, allowed Greece to cut pricing by 10 basis points from initial guidance.
The sale was the most oversubscribed deal in Europe for over a month, a sign of just how far Greece has come in the past decade. At the height of the euro-area debt crisis in 2012, 10-year yields skyrocketed above 44%, with the country locked out of international markets. Now, those yields are below 1%, giving the government a chance to tap long-end bonds and complete its yield curve.
"It's proof that Greece is back," Greek Prime Minister Kyriakos Mitsotakis said in an interview with CNN TV. "It's just one additional step we take in the direction of leaving our legacy and our past decade once and for good."
The extra supply saw Greek debt leading regional market losses on Wednesday, with 10-year yields climbing 11 basis points to 0.98%. However, for investors the country's bonds have already delivered. In the past year alone, they have returned around 25%, making them the best performers in the region, according to Bloomberg Barclays Indices.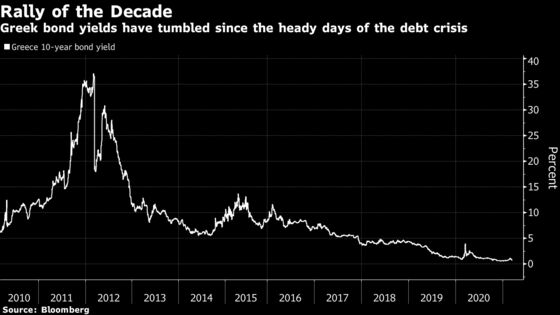 Greece currently has a cash buffer of 30 billion euros, which means that it's not in an immediate rush to raise short-term funds. Still, the government wants to boost its coffers as the economic fallout from the pandemic is larger than expected. It already plans to fund measures worth 11.6 billion euros, some 4 billion euros more than initially planned.
For Mediolanum fund manager Charles Diebel, the experience of staying in Athens during the euro-area crisis -- in the same hotel as representatives of the institutions imposing stringent austerity in return for bailouts -- put him off buying Greek bonds. Now he agrees the sale means the country is "back in the game."
Trading in Greek bonds still remains scant. Bank of Greece data show turnover on the electronic secondary securities market, or HDAT, totaled 2.6 billion euros last month, compared with a peak of 136 billion euros in September 2004.
That means the syndication was also a rare chance for investors to get their hands on Greek assets, particularly with the European Central Bank propping up the market through bond buying. A 10-year sale earlier this year drew a record orderbook of 29 billion euros.
BNP Paribas SA, Goldman Sachs Group Inc, HSBC Holdings Plc, JPMorgan Chase & Co. and the National Bank of Greece SA were appointed as joint lead managers for the sale of the bonds maturing in 2052. Pricing was set at 150 basis points above midswaps, from the 160 in initial guidance. That equated to a yield of 1.956%.