Greece Seeks EU Carbon Hedging Mechanism to Limit Price Jumps
(Bloomberg) -- The Greek government suggested creating a European Union-funded mechanism that could use revenue from extra sales of carbon permits to limit the impact of soaring energy costs on consumers and companies.
An unprecedented rise in fuel and power prices means additional costs to be incurred by consumers are likely to reach 100 billion euros ($117 billion) in the 2021-22 winter period in EU member states, the government in Athens said in a document seen by Bloomberg News. Greek Energy Minister Kostas Skrekas said Wednesday the idea was shared with his European counterparts.
To help nations shoulder soaring energy costs, the Transitional Hedging Fund would raise money from sales of carbon emission permits in the EU Emissions Trading System, possibly through additional auctions or "an advance payment of expected future EU ETS revenues," according to the document. The EU could auction allowances that would normally be sold in the coming years.
"This way, companies will be able to buy up enough carbon credits to fully hedge their exposure to the carbon price," Greece said. "A rough estimate of the amount needed for winter 2021-2022 is around 5-8 billion euros."
Carbon prices more than doubled over the past two years, surging to a record earlier this month as the EU tightens its climate policy, a contributing factor in the surge in natural gas and power prices.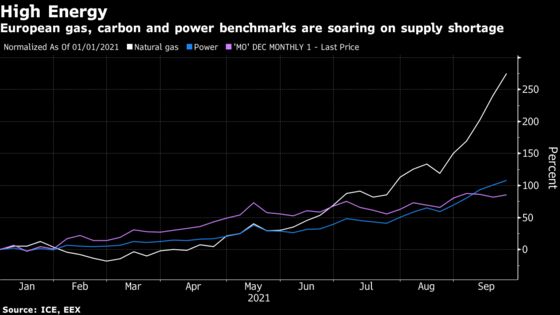 The allocation of revenue from the fund to EU nations would be calculated on a pro-rata basis taking into consideration the heating and electricity consumption and their relevant gross national product, according to Greece. 
The new mechanism would require amendments to the EU regulation on carbon auctions, a procedure that needs support from national governments and a nod from the EU Parliament. 
The revision would need to ensure that the fund could be used only in times of exceptional price volatility, Greece said. It should also include claw-back provisions ensuring recovery of the fund based on a longer-term, smoothly-applied consumer levy.