Greece Joins Southern Europe Rebound With 16.2% Growth 
(Bloomberg) -- Greece's economy expanded 3.4% in the second quarter from the January to March period, driven by investments.
The country joins its peers in Southern Europe as economies benefited in the three months to June 30 from the lifting of most of pandemic-related restrictions. Italy, Spain, Portugal and Greece are set to get about 379 billion euros ($450 billion), or 47%, of the European Union's 800 billion-euro recovery fund in order to reshape their economies in the post-pandemic era.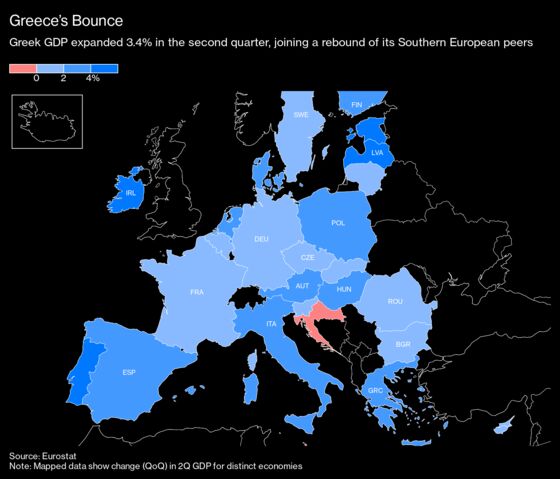 Greece projects economic expansion of 3.6% for the whole of 2021 from a 8.2% fall in 2020, but growth this year will be better than previously forecast, Finance Minister Christos Staikouras said Monday. 
Output rose by 16.2% in the second quarter compared with the same period last year. The government sees an even stronger-than-expected third quarter given the positive signs from tourism.
The better data for the economy also gives Prime Minister Kyriakos Mitsotakis room to introduce further tax relief. The premier is expected to announce new initiatives for easing the tax burden in a speech on Saturday at the Thessaloniki International Fair.