World's Largest Pension Fund GPIF Now Holds Record $1.75 Trillion in Assets
(Bloomberg) -- Japan's Government Pension Investment Fund posted a fifth consecutive quarterly gain in its investments as returns from overseas assets helped make up for losses on domestic equities.
The world's biggest pension fund gained 2.7% for the quarter ended in June, boosting assets under management by 4.98 trillion yen ($45.4 billion) to a record 191.6 trillion yen, it announced on Friday. Overseas stocks were its best-performing investment, returning 8.6%, while domestic shares lost 0.3%. Foreign bonds added 1.9% and Japanese bonds gained 0.5%.
Overseas stocks have been the GPIF's top-performing asset since April of last year, when the fund started reducing its dependence on Japanese government bonds to focus on equities and foreign debt. Last month, the GPIF posted a record-breaking return for the fiscal year ended March. 
The gains announced Friday took the cumulative returns since the fund began managing the nation's pension reserves in 2001 past 100 trillion yen, including interest and dividend income. 
"The April-June quarter saw global equities rally on the back of expectations for Covid-19 vaccine rollout and economic reopening, as well as ongoing easy monetary policy by key countries," said GPIF President Masataka Miyazono in a statement. "Domestically, Japanese equities slipped due to worries over resurgence of infections."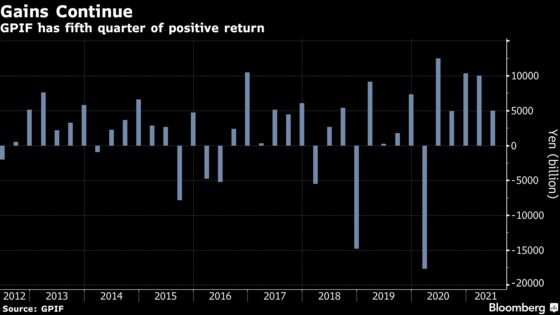 The MSCI World Index of global stocks rose 7.3% last quarter, while Japan's Topix slipped 0.5%. Yields on 10-year Treasuries fell 27 basis points to 1.468%, while those of Japanese government debt were little changed at 0.05%. The dollar strengthened 0.4% against the yen during the quarter. Since the end of June, the Topix has fallen 0.7%.
|   | April-June performance | End-June asset allocation | Target asset allocation |
| --- | --- | --- | --- |
| Domestic stocks | -105.1 billion yen | 24.5% | 25% (± 8ppts) |
| Domestic bonds | +208.9 billion yen | 25.4% | 25% (± 7ppts) |
| Foreign stocks | +3.99 trillion yen | 25.4% | 25% (± 7ppts) |
| Foreign bonds | +887.3 billion yen | 24.7% | 25% (± 6ppts) |
"The GPIF could have room to buy up Japanese equities in the coming quarter as indices have fallen a bit," said Naoki Fujiwara, chief fund manager at Shinkin Asset Management Co. "Fundamentals for Japanese stocks aren't bad either."