GOP's Sliwa Says He Sees Path to Beat Heavily Favored Democrat
(Bloomberg) -- Republican mayoral hopeful Curtis Sliwa, who will face newly elected Democratic primary winner Eric Adams in New York City's general election in November, appealed to the city's voters on Wednesday not to count him out just yet.
Democrats outnumber Republicans in the city by 7-to-1, making Adams all but certain to take over Gracie Mansion when Mayor Bill de Blasio's term ends this year. But Sliwa said he's going to spend the next few months trying to reach independent voters that may not have cast ballots in primaries with a tough-on-crime message to rival the Brooklyn borough president, who spent two decades in the NYPD.
"I have 42 years as leader of the Guardian Angels in the streets and in the subways," Sliwa said during a speech on Wednesday, referencing the anti-crime group he founded in 1979, during a period of rising crime in New York City.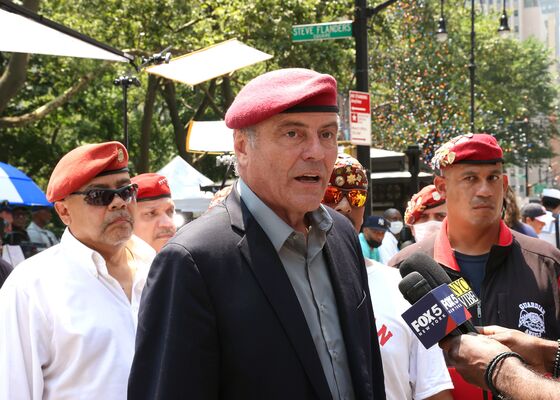 Unarmed, the group would be recognizable patrolling city streets and subways in their trademark red berets and jackets. He's also known to New Yorkers after 25 years as a radio talk-show personality, which has given him a platform to espouse his conservative views.
In his campaign against Adams, Sliwa has already tried to tie Democratic nominee Adams to de Blasio, whose popularity has sagged late in his second term, according to recent polls, including a June 11 NY1/Ipsos poll that showed the incumbent with a 37% approval rating, down from 49% last October.
On Tuesday evening as Adams was declared the winner of the Democratic primary, Sliwa described Adams, his new adversary as "the best political ally that de Blasio has had."
Sliwa, 67, won the Republican Primary with 72% of the vote against Fernando Mateo, a self-styled advocate for taxi drivers and a spokesman for an organization representing owners of the city's bodegas. He said he wants to use pandemic stimulus funds to pay for additional police officers.
Sliwa's campaign has focused on decrying "Defund the Police," overhauling the city's property tax to make it more equitable, keeping specialized high school admission tests, expanding vocational training and the establishment of "no-kill" animal shelters. Sliwa didn't support Donald Trump for president in 2016 or 2020, and rejects Trump's false assertions that he lost due to voter fraud.
"There are all different kinds of Republicans just like there are all kinds of Democrats," he said on Wednesday. "I've never been a Trumper."