GOP's Ciattarelli Concedes More Than a Week After New Jersey Election
(Bloomberg) -- Republican Jack Ciattarelli conceded the New Jersey governor's race to incumbent Phil Murphy on Friday, more than a week after the Nov. 2 election.
Ciattarelli said he called Governor Murphy to congratulate him on his re-election and that he saw "no proof that this election was stolen." 
"I do not see the result of this election as a failure," Ciattarelli said at a press conference at the Raritan Municipal Building, where he was surrounded by cheering supporters. "Republicans won 8 targeted legislative races. So I'm also proud that there is now greater balance of power."
Ciattarelli trailed by about 1 percentage point, or 29,000 votes, when the Associated Press called the race for Murphy on Nov. 3. Since then, a flood of mail-in and early ballots have been counted. As of Nov. 11, Murphy was ahead by more than 73,000 votes, according to the AP.
Ciattarelli had said he would not concede until "every legal vote" was counted, and held out the possibility of seeking a recount. New Jersey had more than 700,000 mail-in and early voters, and the majority were from Democrats.
Murphy's tight victory makes him the state's first Democrat to win two terms in more than 40 years. New Jersey leans Democratic, but voters frustrated by the state's high taxes have kept governors from that party to single terms since the 1970s.
Murphy, 64, also had to contend with President Joe Biden's declining approval ratings in New Jersey.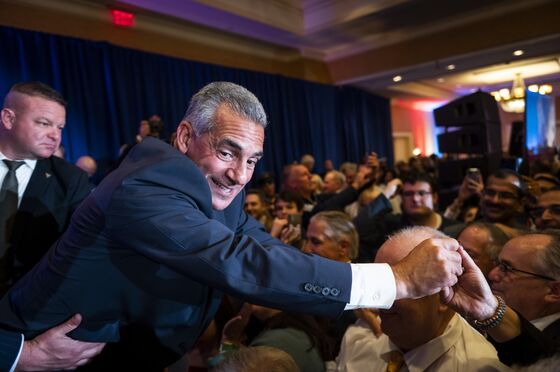 While Ciattarelli said he congratulated Murphy on his win, he also used his concession speech to take a shot at the governor. He also said he would run for New Jersey governor again in four years.
"There are those who seek to get things done by raising taxes, I prefer to get things done by fixing problems," Ciattarelli said. "I hope that the governor has taken something away from this election. Particularly because of the closeness." 
Bob Hugin, Chairman of the New Jersey Republican Party, called the tight race a signal to voters: "This is a new day for Republicans in the Garden State," he said in a statement on Friday. "No longer can New Jersey be written off by friends and foes alike as simply a 'blue state' with few prospects, but rather it should be given the investment and scrutiny the people of this state deserve."