Dublin Is Bursting at the Seams
(Bloomberg) -- Conall Laverty, who raised over $1 million for his Dublin-based startup, jokes that his mother still wants to know when he's going to get a real job -- maybe at Google or one of the other technology giants scattered across the city.
U.S. companies flooding into Ireland now employ, either directly or indirectly, about one in five workers in the country. Last month, Facebook Inc. and Salesforce.com, Inc. unveiled plans to hire 2,500 more people in Dublin. With these global behemoths dominating Dublin, boosting wages and other costs, it's become tricky for startups like Laverty's Wia to fill vacancies.
"It's tough," Laverty, 29, said, sitting in a cafe in Dublin a few minutes stroll from where Salesforce is due to build a new tower. The influx is "good from a pool of talent perspective, bad from a compensation perspective," he said.
There's a wider sense of the city bursting at the seams and struggling to cope with the flow of international business even before a significant impact is felt from Brexit. Wages are rising and office rents and apartment prices are surging. Dublin is showing traces of what has been dubbed the "Mayfair" effect, where an influx of hedge funds into the tony London district squeezed out local businesses and residents.
"Dublin, just like every other major European city, has challenges it must overcome to continue growing," Mary Rose Burke, chief executive of Dublin Chamber of Commerce, which represents businesses, said, even as she welcomed Salesforce's announcement. "Housing is the biggest issue currently facing businesses in the Dublin region."
The boom is most apparent in the city's docklands. Traditionally home to financial firms such as Citigroup Inc., they've been joined by companies including Google, which employs about 5,000 people nearby. Apartment renters in the area earned an average of 118,000 euros ($135,000) last year, according to real estate brokerage Owen Reilly. That's more than three times average earnings nationwide.
Laverty is currently seeking a new apartment, and reckons it'll cost about 2,400 euros a months, three times more expensive than a similar place in Belfast, just two hours away. Rents in the city center have doubled in less than a decade.
Office space is also scare, with technology firms hoovering up 72 percent of office space taken up in the last three months of 2018, according to broker Jones Lang LaSalle Inc.
Unemployment has plunged to 5.3 percent, and is now close to the pre-financial crash level, pushing wages up. That compares to a euro-region average of 7.9 percent. Joblessness rose to 15 percent in Ireland during the crisis.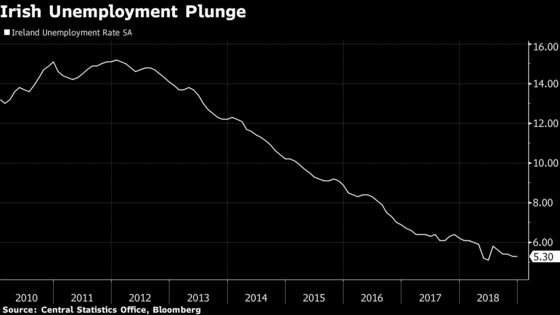 Laverty employs nine people and is looking for another five -- in sales, marketing and engineering -- for Wia, which helps developers and firms create sensor devices, connect them to the Web and build applications around them. He argues that more generous tax treatment of stock grants or options could make it easier to attract staff.
Industry group Technology Ireland agrees there's a battle for talent and housing, but argues the spin-off benefits of having some of the biggest companies in Dublin are powerful.
"The whole really is greater than the sum of its parts," said Eoghan Ó Faoláin, acting director of the organization. "Naturally there will be competition for limited resources such as talent, and in more recent times housing, but this is not unique to Ireland."
Laverty meanwhile is upping his search for a new place to live in Dublin, following the Salesforce jobs announcement.
"There's 1,500 people coming down here," he said. "I need to get this sorted because of all these jobs coming in!"