Traders See Earlier Fed Hikes, Even as Goldman Cautions on Pace
(Bloomberg) -- Spurred by a wave of economic optimism, traders are warming to the idea that Federal Reserve rate increases could come sooner than was expected even just a few weeks ago.
Interest-rate swap markets are pricing the first 25 basis point of Fed hikes around mid-2023, versus the early-2024 timeframe priced in at the beginning of this month. The shift has coincided with improved prospects for U.S. stimulus spending as well as vaccine roll-outs, leading to enthusiasm about the global economy's prospects. Market-based measures of inflation have jumped, reflecting those rosier feelings, and bonds have sold off around the world.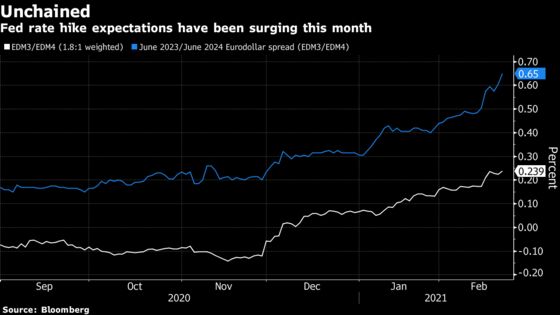 The Fed wants to end asset purchases before moving to higher rates, meaning late 2022 is the "earliest plausible" time for increases, according to Goldman Sachs Group Inc. strategists including Praveen Korapaty in New York. While there's now 50 basis points of increases expected for 2024, any more may be hard to sustain, the strategists wrote in a note.
Eurodollar futures activity on Monday shows traders continue to zero in on increases roughly 2 1/2 years from now. The activity has been focused on eurodollar steepener wagers with particular focus on 12- and 24 month spreads. The strip continues to price in the first full Fed rate hike around June or September 2023.
Traders' moods have changed rapidly, with the yield on benchmark 10-year Treasuries up more than 15 basis points since the beginning of last week. It got as high as 1.39% earlier Monday, the highest since February 2020.
The Fed's shift to look at average inflation means the pace of rate increases should stay relatively gradual, the Goldman Sachs strategists said. A more optimistic outlook may see that priced in sooner, which should stop any additional hike premiums being injected into the 2023-to-2024 portion of the forward curve, they said.
The strategists recommended adding weighted June 2023 versus June 2024 flatteners in Eurodollar futures, as this would benefit from rate moves in either direction.