Goldman Sees Choppy Waters for Italy's Bonds Even After Budget
(Bloomberg) -- While the Italian government is expected to publish new budget details this week, it's the outlook beyond that concerns strategists at Goldman Sachs Group Inc.
The extra premium investors demand to hold Italian debt over its German equivalent is unlikely to shrink to levels seen before May anytime soon, Goldman strategist George Cole said. That's even if Italy's leaders project a deficit below the bank's forecast of 2 percent and the European Union limit of 3 percent in their 2019 budget targets, which must be published by Thursday.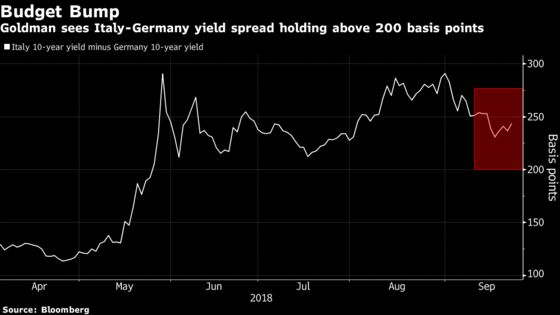 A difficult outlook over the medium term, due to the "upcoming fiscal expansion, coupled with the weakening in higher frequency indicators" in Italy, should result in only a limited and temporary fall in Italian yields, Cole said. If the deficit comes in as Goldman expects or lower, the spread could tighten to 210 basis points, but will be hard to narrow beyond 200 basis points. On Monday, the yield premium stood at 243 basis points.