Goldman Says 36,000% Rally in Brazilian Retailer Has Room to Run
(Bloomberg) -- Shares of Magazine Luiza SA have rallied more than 36,000% since touching all-time lows in late 2015. But gains for the Brazilian retailer might be far from over, according to Goldman Sachs.
Goldman analysts reinstated coverage on the stock with a buy rating and price target of 55 reais -- the highest among analysts tracked by Bloomberg -- implying a potential upside of about 22% from current levels.
"We believe the company is in the process of successfully transforming itself from a Brazilian bricks-based durable goods retailer to an omnichannel retailer with a sizable e-commerce presence across several sub-categories," analysts led by Irma Sgarz wrote in a report. "The scaling of its e-commerce platform and the continued build-out of its physical retail presence should translate into compelling GMV, revenue and Ebitda growth," the Goldman analysts said.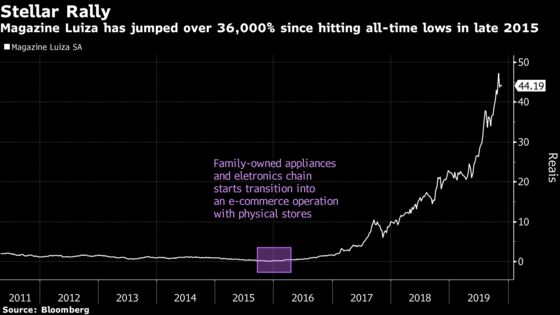 The retailer recently filled its coffers to face mounting online competition, with an equity offering that raised about 4.7 billion reais. The company said it will use proceeds from the share sale to invest in technology and expand further in Brazil's e-commerce environment.
In the third quarter, Magazine Luiza's earnings topped even the most optimistic analyst estimate, as online gross-merchandise volume (GMV) grew 96% on an annual basis. According to Goldman's estimates, e-commerce will generate 52% of Magazine Luiza's total sales volume in 2020.
The stock has 8 buy-equivalent ratings, 5 holds and 1 sell, avg PT 37.99 reais, according to data compiled by Bloomberg.