Goldman's Dividend Most at Risk, Morgan Stanley Analyst Says
Goldman Sachs's dividend is most at risk in Morgan Stanley's worst-case look at whether big banks are likely to slash payouts as regulators around the world push lenders to preserve capital during the unfolding Covid-19 crisis.
Goldman doesn't have "much wiggle room to absorb a doubling of credit losses that we estimate in our bear case," analysts led by Betsy Graseck wrote in a note, as the bank's "regulatory capital is pretty much sitting on top of its required minimums" under new rules set to take effect in October 2020.
Read more: March 31, Bank Dividends May Come Under Government Fire: Wall Street Votes
For now, Graseck expects America's largest banks can maintain dividends for one simple reason: They have enough capital. But if Morgan Stanley's bear case plays out, then "investors should be prepared for dividend cuts."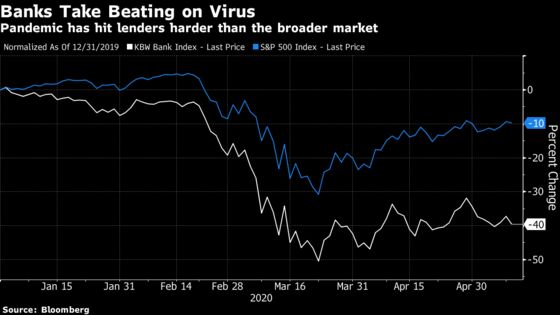 Potential reasons for cuts include a rising likelihood of a severe economic downturn or regulatory pressure, particularly if the Federal Reserve finds it difficult to predict the direction of the economy, she said, while mounting political pressure might force banks to lower dividends for non-financial reasons. There may also be a "domino effect," she said. "If one large cap bank cuts, that could create additional pressure for others to follow suit."
Big banks fell in early trading on Monday, along with stocks across the board, as investors weighed the latest moves to relax pandemic restrictions. Goldman slipped as much as 2.2%, while JPMorgan Chase & Co. fell 3.6%, Bank of America Corp. dropped 3.7% and Citigroup Inc. shed 5.1%. Banks are particularly sensitive to economic upheaval and credit issues; the KBW Bank Index has tumbled 37% since Feb. 20, when concern about Covid-19 began accelerating, versus a 14% drop for the S&P 500.
Wells Fargo & Co. fell 3% to the lowest intraday since November 2011. Last week, the lender slipped after Atlantic Equities analyst John Heagerty downgraded the stock, citing the looming specter of a dividend cut.
Read more: May 5, Wells Fargo Slides as Atlantic Sees Dividend Likely Slashed
No bank that Graseck covers other than Goldman would breach its regulatory capital ratio minimum in Morgan Stanley's worst case, though Citigroup, BofA and Wells Fargo would all come within about 50 basis points of required minimums. Northern Trust Corp. and State Street Corp. face the least risk of cutting dividends, as they have more than four percentage points of capital above regulatory minimums and positive earnings, even in Graseck's bear case. American Express Co., Discover Financial Services, Synchrony Financial, and BNY Mellon Corp. also screen high.
Last month, Invesco Ltd. tumbled to the lowest in decades after slashing its dividend. On Invesco's conference call, Chief Executive Officer Martin Flanagan said the decision to cut was taken with the "understanding that the environment could weaken," adding that "we're not thinking we're seeing a snapback going forward."