Goldman CEO Says This Year's Stock Rebound Looks Out of Step
(Bloomberg) -- The stock market rally that's erased almost all of this year's losses can't be justified by corporations' profit potential, according to Goldman Sachs Group Inc. Chief Executive Officer David Solomon.
"The equity market does seem to be a little bit ahead of my view of the future earnings performance of businesses," Solomon said Wednesday at the Bloomberg Invest conference. "If I'm right about that, you'll see a re-balancing of that over time."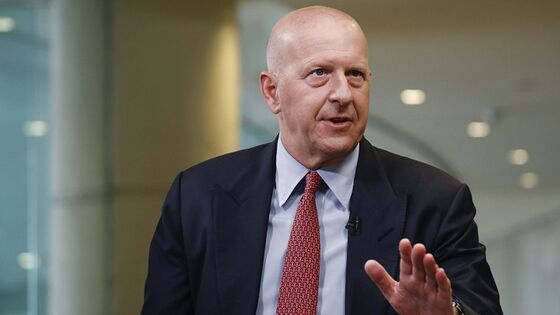 With interest rates around the world at or approaching zero, and central banks vowing to take whatever steps are needed to recover from the Covid-19 pandemic, investors have been pouring money into equities.
It's "the only game in town" for reasonable long-term returns, Solomon said.
Markets are signaling a rosy outlook about the economy reopening and seem to be discounting the difficulty of living with the virus long-term, the CEO said. Investors pared some of those bets Wednesday, pushing the S&P 500 down 2.5% at 3:09 p.m. in New York.
One uncertainty for Goldman Sachs employees is when the bank will end its pledge to suspend job cuts. At its debut investor day in January, the firm laid out an ambitious target to cut more than $1 billion in costs, a move that would likely have been accompanied by staff reductions.
But like its peers, the firm later pledged to refrain from job cuts as the pandemic roiled communities and economies around the world. That will change.
"We are running a business going forward," Solomon said. The firm's annual culls of the worst performers will have to resume heading into 2021 and beyond, he said.
"As we go forward, we'll do what is right for our shareholders," Solomon said.