Goldman Asset Management Sees Brexit Pinch Making BOE First Mover on Rates
A Brexit-fueled labor shortage is likely to mean the Bank of England increases interest rates before any of its major peers, according to Goldman Sachs Asset Management.
The firm is betting against U.K. government debt, predicting the U.K. central bank will raise borrowing costs next month before two more increases by June 2022. It's also short on the pound, with the risk of further disruption to trade between the U.K. and European Union.
"The impact of Brexit is being felt mainly through its impact on labor supply," Hugh Briscoe, a global fixed-income portfolio manager, said in e-mailed comments. "While a global problem, the U.K. is facing a particularly severe labor shortage as it emerges from the pandemic."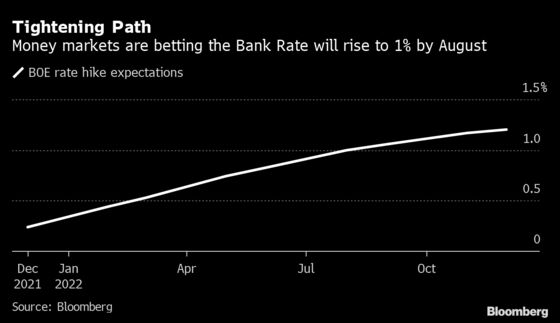 Money market traders are betting on an almost 15-basis-point hike next month, which would take the BOE's benchmark rate to 0.25%, and then on a further increase to 1% by August. Reports this week showing faster-than-expected inflation and a booming labor market have boosted expectations for tighter policy.
"Even in markets where we think market-implied pricing for monetary tightening over the next year is excessive, meaning rates could rally from current levels, we are mindful of overweight exposures as the room for increased volatility rises as we approach the start of hiking cycles," said Briscoe. "We think the U.K. curve is excessively flat, but dislocations could persist in the near term."
The outlook is being complicated by rising trade tensions between Britain and the European Union. With the government in London threatening to invoke Article 16 of the Northern Ireland protocol, which governs trade, economists warn that retaliation from Brussels could hurt the pound and influence the BOE's calculations on monetary policy.
Briscoe said the pound will weaken if the government triggers Article 16 but the moves will be limited. That's because the EU will likely follow a legal process that will delay any serious sanctions, leaving space for an agreement to be reached, he said.