Goldman and JPMorgan Need to Woo Paraguay to Win Its Business
(Bloomberg) -- Paraguay's Finance Minister Benigno Lopez has a message for investment banks including Goldman Sachs and JPMorgan: if you want me, then woo me.
One of Latin America's fastest-growing nations, Paraguay intends to return to the international bond market before March by selling about $500 million, Lopez said in an interview at the International Monetary Fund's annual meetings in Bali. That's on the heels of $3.41 billion in bonds that were sold since 2013.
Selling Paraguay isn't as hard as it used to be. As Lopez sees it, he now has some leverage over the world's biggest banks.
"They have to do something more for us to consider giving them the opportunity to work with us as the book runner," Lopez said . "I want to see them finance more projects in Paraguay, and those ones will gain my heart."
Paraguay's efforts to boost infrastructure investment in recent years through so-called public-private participation contracts has proven underwhelming. Financing PPPs or other public works projects isn't the only way for banks to score brownie points, Lopez said. Having a local branch helps, as would forging alliances with correspondent banks to facilitate money transfers, he said.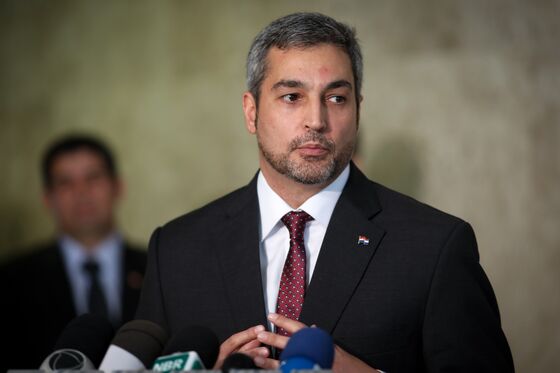 President Mario Abdo Benitez is doing his part to boost investment by reaching out to heads-of-state. He met with the emir of Qatar last week, and presented water, road, bridge, technology and airport projects to be studied for possible Qatari investment, Lopez said. Lopez may also ask the public works ministry to identify smaller, simpler projects for the PPP pipeline.
The prior book runners of Paraguay's foreign bonds were JPMorgan, Citigroup and Bank of America. The issuances were oversubscribed. Other interested banks include Goldman, UBS, Credit Suisse, Itau Unibanco, and Santander, Lopez said. He visited JPMorgan and Goldman during his late-September trip to New York, and sometime afterward had the idea of adopting extra criteria to select who's granted the privilege of selling Paraguayan debt.
"We need a lot of investment power and the way to get that investment in infrastructure is to have the financing," Lopez said. "Everybody wants to do the bond issuance. OK, let's do the bond issuance, but try to finance projects in Paraguay, too. Be more involved in Paraguay. That's my idea."