Global Stock Rally Boosts Australian Pension Pot to A$3 Trillion
(Bloomberg) -- Australia's pension pot exceeded A$3 trillion ($2.3 trillion) in assets in December, aided by the rebound in global stocks as tech shares rallied and Covid-19 vaccines were rolled out.
Pension funds recorded a A$125 billion investment return in the three months to December 31, more than triple the gains of the prior quarter as stocks rallied, according to Australian Prudential Regulation Authority data released Tuesday. Equity investments, which make up more than half the portfolio, rose 12% to exceed A$1 trillion in assets.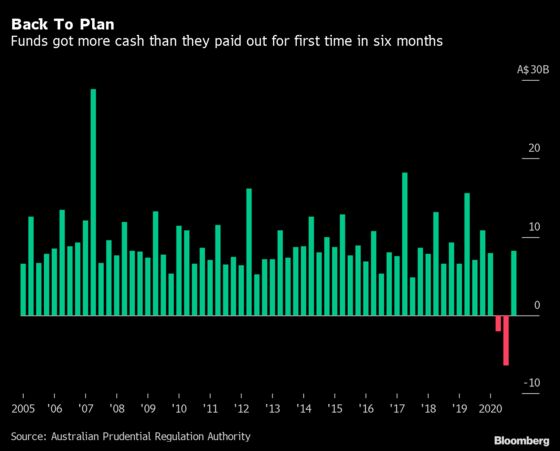 The stock rally offset the impact on the savings pool of a government program to let people draw down retirement savings early, which saw net contributions fall about 81% last year. Australia, home to the world's fourth-largest pension pool, still saw more money enter the system in the December quarter than exited for the first time since the start of 2020, resuming a trend that had been in place for at least 15 years.
Holdings of stocks as a percentage of the total portfolio rose to the highest level in more than six years amid a dizzying rally in tech shares, fueled by central bank easing, fiscal outlays and optimism for a post-pandemic global rebound. Meantime, cash holdings dropped 5.6% to their lowest level since December 2019.
| Fund Type | 3Q Cash | 4Q Cash | 3Q Equity | 4Q Equity |
| --- | --- | --- | --- | --- |
| Industry Funds | 11% | 8% | 51% | 54% |
| Public-Sector Funds | 13% | 13% | 44% | 46% |
| For-Profit Funds | 13% | 12% | 54% | 56% |