Global Money Managers Sold Most Italy Bonds Since 2016 Last Year
(Bloomberg) -- Global bond funds were net sellers of over 60 billion euros ($68 billion) of Italian bonds in 2018 as the nation's markets were rocked by the populist government's budget battle with the European Union.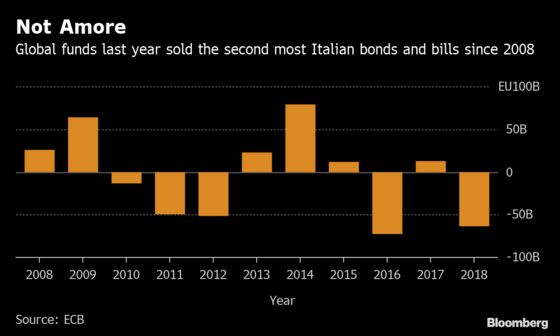 That was the most since 2016, and contrasted with foreign investors snapping up a net 13 billion euros of the securities in 2017, data released Tuesday by the European Central Bank showed. The figures highlight how sentiment toward the euro area's third largest economy deteriorated, with Italy still facing a string of potential hurdles, including a Fitch Ratings review Friday that could see the nation downgraded to one level above junk.
"Foreign investors tend to be more sensitive to topics such as populism than domestic ones," said Jan von Gerich, chief strategist at Nordea Bank AB. "It has been quite common in Italy that when there are increasing political risks, the foreign owners start unloading their exposure, while the domestic financial institutions take a more supportive role."
Italian 10-year bond yields rose six basis points to 2.83 percent Tuesday, with the spread over those on German bonds widening by eight basis points to 274.