Yen Bills See Record $204 Billion Inflow Amid Shift From JGBs
(Bloomberg) -- Global funds scooped up a record amount of Japan's treasury bills last year as they shunned loss-making government bonds in the country.
Overseas investors acquired 21.4 trillion yen ($204 billion) of T-bills while turning net JGB sellers for the first time since 2013, according to the latest balance-of-payments data. They also bought a total of more than 3 trillion yen of other types of Japanese debt -- including bonds issued by government agencies, local governments and other entities.
"There is persistent T-bill buying through cross-currency swaps, and such flows were also visible last year," said Naoya Oshikubo, a senior economist at Sumitomo Mitsui Trust Asset Management Co. in Tokyo. "Low yields and low volatility reduced speculative flows into long-dated debt aiming for capital gains."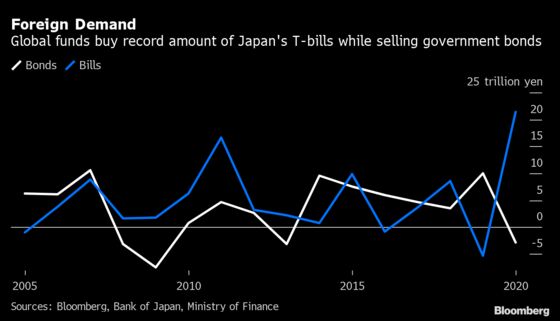 Japan was the only government bond market globally to post an annual loss last year. The Bank of Japan's yield curve control policy kept central bank debt purchases in check even as the government increased planned issuance to a record amount. The resulting rise in long-end yields saw the gap between the 10- and 30-year yields widen by the most since 2012.
T-bill yields are below zero, but buying them with currency hedges offer dollar-based investors a yield that's 22 basis points higher than similar-maturity U.S. bills.
While monetary policy has offered little help to government bonds, the central bank's expanded purchases of corporate debt and investor demand for yield have helped tighten credit spreads.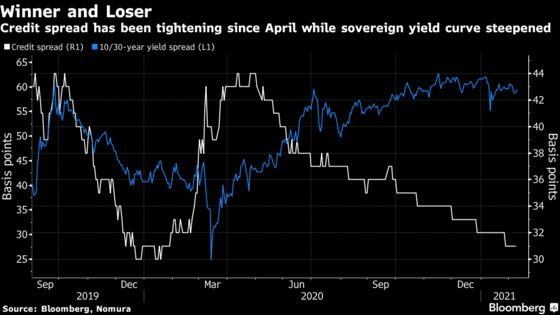 Foreign investors must have bought non-government debt "to profit from credit spreads and also due to speculation the spreads would shrink," said Oshikubo.
Investors in Japanese government bonds are now wary of the BOJ's policy review, the results of which are due for release in March. Speculation is growing that the central bank will cut back debt purchases and let the benchmark 10-year yield fluctuate in a wider range.
Global funds will support JGBs this year, though there is a risk of more steepening in Japan's yield curve if demand weakens further, said Shuichi Ohsaki, chief rates strategist at Bank of America in Tokyo.
Preliminary figures from the finance ministry showed overseas investors bought a net 486.7 billion yen of Japanese bonds in January, though no asset-class breakdown is available.