Soybeans Edge Higher as China Demand, Brazil Weather Weighed
(Bloomberg) -- Soybean futures closed higher after swinging between gains and losses as as investors weighed global scarcity against signs of beneficial weather in Brazil, the world's top producer and exporter. Soybean oil extended a rally to a six-year high, and grains declined.
Expectations for record Chinese imports, driven in part on concern that dryness in South America will crimp world supply, drove soybeans on Wednesday to the highest since June 2014. Demand by the Asian nation has drained inventory for the balance of 2020, according to Archer-Daniels-Midland Co., one of the world's top agriculture traders.
The U.S. this quarter is "in a great position to be able to have the largest export program ever," Greg Morris, president of ADM's Ag Services and Oilseeds, said at an investment conference.
Despite drought made worse by a La Nina weather system, Brazil's next soybean harvest may still be a record after farmers planted crops more widely. Parts of South America are getting beneficial showers.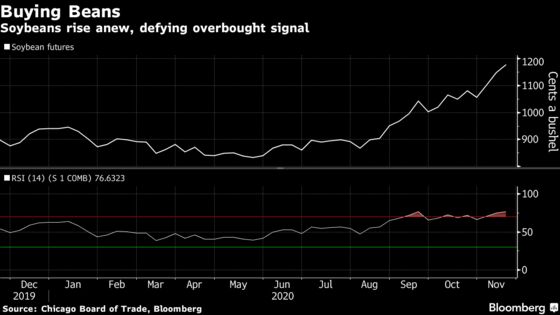 Soybean futures for January delivery rose 0.2% to close at $11.775 a bushel on the Chicago Board of Trade after falling as much as 1.2%.
On Wednesday, the oilseed reached $11.8975, the highest for a most-active contract since June 30, 2014. The U.S. is the second-biggest exporter.
Soybean-oil futures for January delivery climbed 0.8% to 38.51 cents a pound after reaching 38.68 cents, the highest since July 3, 2014. The price advanced for the fifth straight session, the longest rally since Aug. 27.
Corn futures fell 0.8%, snapping a four-session rally. Wheat dropped 1.3%.
New restrictions aimed at containing a rapid rise in Covid-19 cases in the U.S. may erode demand for corn-based ethanol. ADM plans to keep idle plants shut through the winter.