Global Coronavirus Shutdown Tests Taiwan's Economic Resilience
Taiwan is one of the few places to quickly get its coronavirus outbreak under control, but it's unclear whether it can also avoid a recession as the global slump in demand looks set to hit the trade-dependent economy.
Swift action by the government earlier this year to contain the disease and to provide more than $30 billion in relief measures spared businesses and people alike. The economy is forecast to have grown 1.7% in the first quarter, much stronger than elsewhere, but whether that continues depends on how long the contractions in trading partners like China, Japan, South Korea or the U.S. last.
"Taiwan is obviously a major trading nation and will be hit by the global recession, but it's better positioned than many other places because it managed the virus outbreak properly and so didn't need to halt its own economy," according to Anita Hsu, an economist with Masterlink Securities Investment Advisory in Taipei. "Domestic consumption has been supported because Taiwan didn't lock down and hasn't had any serious job cuts."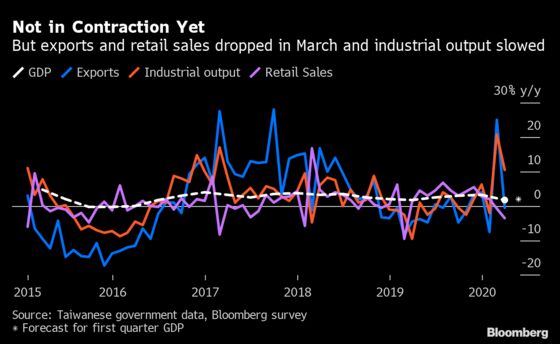 The signals so far are mixed, but are pointing down. Industrial output was still growing in March but both exports and retail sales shrank. In addition, the monitoring indicator, an index of economic signals such as imports of equipment, money supply and share prices, fell into "sluggish" territory for the first time since October last year.
However, the island 130 kilometers off the Chinese coast has largely kept the virus outbreak under control. With the number of cases worldwide topping 3 million, Taiwan has kept its infections at 429.
The health authorities in Taipei have reported no new cases of the coronavirus for the past four days.
Economists and investors are struggling to estimate just how big the economic impact of the virus will be. The International Monetary Fund predicted earlier this month that the Taiwanese economy will shrink 4% this year, its biggest economic contraction on record. At the other end of the spectrum, the Taiwanese government is holding steadfast to its official forecast of growth of up to 1.8% for the year.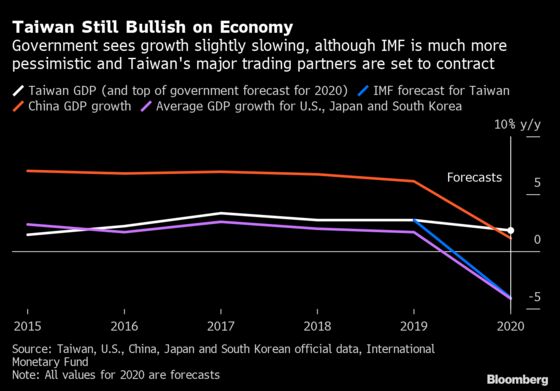 "Everyone's estimates are all over the place because everything now just depends on the outbreak," said Liu Cheng-yu, an economist at Taipei-based First Capital Management. "All the variables, such as the virus's impact on economic activity and governments' relief measures, are in flux right now."
Taiwan's regional economic peer South Korea suffered its biggest economic contraction since the global financial crisis last quarter, with GDP falling 1.4% quarter on quarter. In a worrying signal for Taiwan, Korea's chip exports lost momentum.
Still, Taiwan's economy has so far withstood a testing year. It shrugged off the impact of the U.S.-China trade war faster than its Asian peers after a surge in domestic investment by Taiwanese companies looking to ease their over-reliance on Chinese production lines helped minimize the shock.
If it manages to come out of this crisis relatively unaffected, it will be in a strong position to outperform the other Asian Tiger economies for a second year in a row.