Global Cases Surpass 1.5 Million; N.Y. Deaths Jump: Virus Update
(Bloomberg) -- Global cases of the coronavirus topped 1.5 million, less than a week after surpassing the 1 million mark.
New York, the U.K. and Belgium reported their deadliest days so far. Spain's fatalities and new cases rose to the highest in four days. U.K. Prime Minister Boris Johnson is stable and responding to treatment at a London hospital.
The U.S. Senate leader is seeking a vote on $250 billion more in aid, and Hong Kong announced a fresh package valued at about $18 billion. European Union finance ministers failed to agree on a $543 billion recovery plan for the bloc.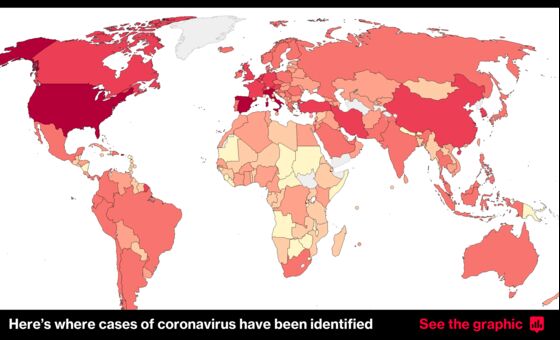 Trump Relying on Health Experts to Reopen Economy (6:36 a.m. HK)
President Donald Trump said he plans to reopen the U.S. economy in phases and would "rely heavily" on public-health experts to make any changes.
"I would say that we're ahead of schedule," Trump said at a White House briefing, when asked about when he might call for the economy to open.
The president's top health experts are developing criteria for safely reopening businesses should trends show a cresting in the outbreak. Deborah Birx, the immunologist who coordinates the White House virus task force, met into the night Tuesday with health experts, including Anthony Fauci, the nation's top infectious disease expert, Centers for Disease Control and Prevention Director Robert Redfield and Food and Drug Administration Commissioner Stephen Hahn.
California to Buy 200 Million Masks a Month (5:17 p.m. NY)
California Governor Gavin Newsom secured a deal to import 200 million masks on a monthly basis for health care workers, grocery store employees and others on the front line of the coronavirus pandemic, part of a $1.4 billion planned investment in personal protective equipment.
Some of that equipment could be shared with other states facing shortages, Newsom said at a press briefing Wednesday,
"California is just uniquely resourced," Newsom said. It can use "the kind of scale that few other states, few other countries can even resource, so we're pleased to do that and it's our responsibility to do more."
U.S. Cases Climb 9.6%, Deaths Top 14,000 (4:20 p.m. NY)
The growth in U.S. coronavirus cases showed signs of slowing Wednesday, even as deaths accelerated in some of the hardest-hit states.
U.S. cases rose 9.6% from the day before to 419,975 as of Wednesday afternoon, according to data compiled by Johns Hopkins University and Bloomberg News. Cases nationally had been climbing an average of 11% a day over the past week. Deaths rose 19% to 14,262.
New York had another day of record fatalities, reporting 779 more deaths. The state has lost more than 1,500 to the virus over the past two days, for a total of almost 6,300. Still, Governor Andrew Cuomo said hospitalizations are falling, showing social distancing is working.
"Nobody is saying we peaked," Cuomo said. "We've flattened the curve for this point of time."
New Jersey reported a record 275 deaths. California also had one of its deadliest days, with 68 fatalities. Illinois had 82.
Michigan, which has the most infections after New York and New Jersey, saw cases increase 7% to surpass 20,000, according to the state health department. Deaths rose by 114 to 959
Ohio Cuts Peak Estimate to 1,600 New Cases (3:10 p.m. NY)
The Ohio Department of Health Wednesday issued new analysis reducing the statistical expectations of the virus's impact to as few as 1,600 new cases-per-day at a peak expected in mid-April. That's down from 10,000 new cases-per-day.
Officials said this means social distancing orders, including a shelter-in-place order that led to hundreds of thousands losing their jobs, is helping to slow the virus's spread and keeping the health-care system from being overwhelmed.
"Don't stop doing what you're doing, that's what these models are showing," Ohio Department of Health Director Amy Acton said during a Wednesday press conference in Columbus. "You have squashed this and you have stretched this."
N.Y. Reports Record 779 Daily Deaths (1:36 p.m. NY)
New York suffered another day of record fatalities from the coronavirus outbreak, reporting 779 additional deaths even as hospitalizations declined.
"The number of deaths will continue to rise as those hospitalized for a period of time pass away," Governor Andrew Cuomo said Wednesday at his daily virus briefing.
The state has lost more than 1,500 people to the virus in the last two days, for a total of almost 6,300.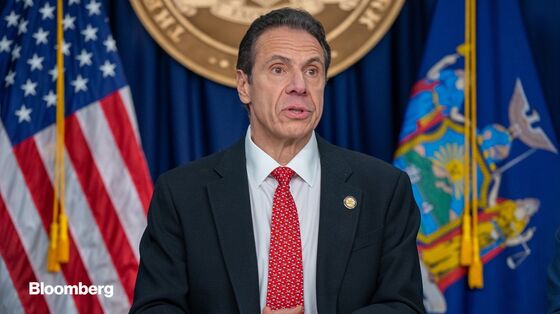 Despite the rising death toll, Cuomo said the state's social-distancing rules and other measures were working.
In neighboring New Jersey, there were 275 new fatalities since yesterday, the biggest one-day increase since the crisis began.
WHO Says World Must Pull Together (1 p.m. NY)
The coronavirus crisis will escalate if countries don't start showing more solidarity, the head of the World Health Organization said, urging the U.S. and China to show "honest leadership" and stop bickering.
"If you don't want many more body bags, then you refrain from politicizing it," Director-General Tedros Adhanom Ghebreyesus said at a briefing in Geneva Wednesday. "No using Covid-19 to score political points."
When asked about President Donald Trump's threat to cut funding and claim that the WHO favors China, Tedros said the WHO tries to treat everyone equally, and the WHO will do an assessment of its successes and failures.
He urged the U.S., China, Group of 20 countries and the rest of the world to come together and fight.
"For God's sake, we have lost more than 60,000 citizens of the world," he said. "Even one person is precious."
Tedros revealed he has been receiving racist insults and death threats.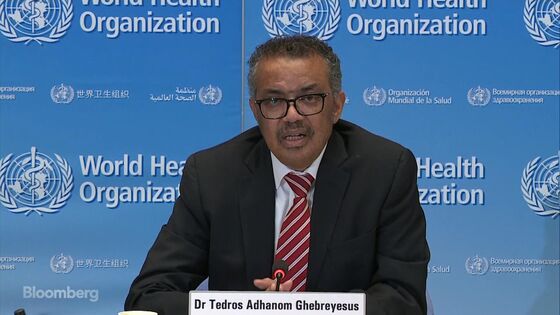 'Too Early' for Europe to Start Easing Restrictions, Agency Says (12:47 p.m. NY)
The European Centre for Disease Prevention and Control warned Europe not to rush into lifting restrictions that are helping slow the spread of the pandemic.
"Based on the available evidence, it is currently too early to start lifting all community and physical distancing measures" in Europe, the agency said in its latest risk assessment. "Sustained transmission of the virus is to be expected if current interventions are lifted too quickly."
The ECDC noted the reported new infections today reflect the measures that were in place a week earlier.
U.K. Announces New High for Fatalities (12:02 p.m. NY)
The U.K. reported a further 938 deaths from the coronavirus on Wednesday, up from yesterday's record daily total of 786.
In total 60,733 people have tested positive for the illness, up from 55,242 reported on Tuesday, according to the latest figures from the Department of Heath and Social Care. The day's figures indicate a slight increase in the rate of growth.
EU Plans to Prolong External-Border
Closure

Until May 15 (11:45 a.m. NY)
The European Commission proposed prolonging until May 15 a ban on most travel into the European Union. Maintaining the restriction on non-essential travel into the bloc for another 30 days is necessary to contain the spread of the coronavirus, the commission said in a recommendation that needs the approval of member-country governments.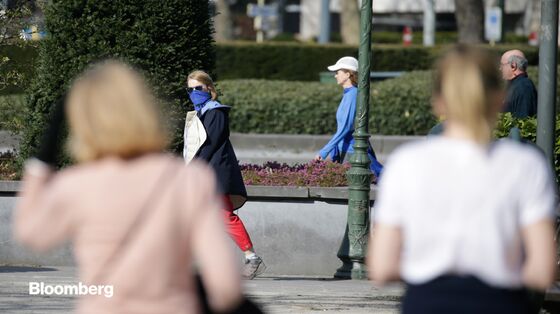 EU Braces for Arrival of 8,000 Cruise-Ship Passengers (11 a.m. NY)
Eleven cruise ships carrying around 8,000 passengers in total will arrive at European Unions ports between April 8 and 11, the European Commission said.
The EU laid out guidelines for member nations on handling the travelers, saying ships with passengers known to be infected with the coronavirus should be directed to ports close to hospitals with adequate capacity.
The commission also urged a coordinated EU effort to designate several ports for "fast-track" crew changes, citing the "essential role" of maritime transport in the bloc's international goods trade.
De Blasio Says Distancing Eases Ventilator Demand (10:55 a.m. NY)
New York City's social-distancing strategy appears to be working, and one result is less demand for ventilators than had been projected, Mayor Bill de Blasio said.
The city had estimated that it would need as many as 300 more of the life-saving machines this week to treat coronavirus patients but has needed to add only 100, de Blasio said Wednesday at his daily virus briefing. It has 5,500 in all.
Statewide, the infection rate has begun flattening, even as the death count rises.
EU Working for Coordinated Ends to Members' Lockdowns (10:40 a.m. NY)
The European Commission is trying to coordinate how member states end lockdowns following criticism that the bloc's initial response to the pandemic was chaotic. An internal draft of a memo seen by Bloomberg sets out conditions for easing to begin as well as other steps that be needed, such as expanding testing capacities and using apps to gather data.
"Any level of (gradual) relaxation of the confinement will unavoidably lead to a corresponding increase in new cases," according to the memo. Gradual exits and a phased-in restart to economic activity may be best, according to the memo. "Not all population should go back to the workplace at the same time."
The adoption of the plan has been pushed back, according to commission spokesman Eric Mamer, who told journalists in Brussels that timing is a "tricky issue" since countries are at different stages of the outbreak.
India's Most Populous State Seals 15 Districts (8:23 a.m. NY)
India's most populous state, Uttar Pradesh, has sealed off 15 of its districts worst affected by infections.
"Since the numbers have risen sharply, this move is essential to stop community spread," R. K. Tiwari, chief secretary of the state, said in a television interview on Wednesday. The state has so far recorded 326 infections and three deaths.
India has had total infections of 5,360 and 164 deaths, according to data from Johns Hopkins University. A 21-day national lockdown ends April 14.
Boris Johnson is Stable, Responding to Treatment (7:54 a.m. NY)
U.K. Prime Minister Boris Johnson is in a stable condition in intensive care and is "responding to treatment" for a severe coronavirus infection, his spokesman said. Johnson was taken into St Thomas' hospital in London on Sunday and moved to the critical care unit on Monday after struggling to shake off the symptoms, including a cough and a fever.