U.K. Bond Yields Rise to Two-Year High on Divorce-Deal Optimism
(Bloomberg) -- The yield on U.K. government bonds climbed to the highest level in more than two years amid growing optimism that a Brexit deal will be reached.
The pound advanced for a second day and gilts slid after a Reuters report said sources within the European Union see a divorce deal with the U.K. as "very close," although traders who asked not to be identified said the pound gains came under thinner-than-average trading volumes. The currency extended its gains on a report later Friday that the European Union is set to offer the U.K. a free-trade deal deeper than any agreement that's gone before.
The gilt sell-off could continue into next week, according to Mizuho International Plc, with the debt-management office having announced a syndicated bond sale as a global selloff in government debt looks set to continue.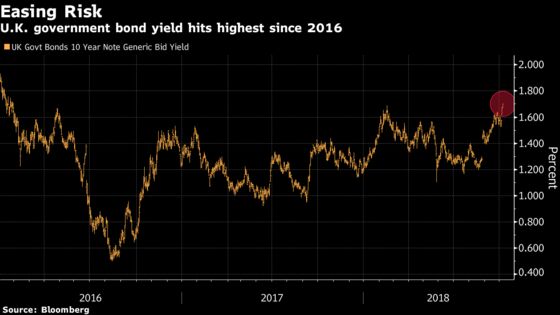 "We would expect that gilts remain under some bearish pressure next week, as it seems likely to us that Ireland's backing of the U.K. being allowed into a customs union with the EU will carry weight with the other EU27 members," said Peter Chatwell, head of rates strategy at Mizuho. "Moreover, the long-end gilts supply will probably keep the curve in a steepening bias until the bonds are absorbed."
The 10-year gilt yield rose four basis point to 1.71 percent as of 16:26 p.m. in London, a fresh two year-high after it touched the highest since January 2016 earlier Friday. The pound was 0.5 percent higher at $1.3087.
Benchmark gilt yields have jumped 14 basis points this week, set for the biggest increase since August, as domestic political risk faded after Prime Minister Theresa May survived her party's conference unscathed and several reports suggested both sides in the Brexit talks are open to compromise.
There are several factors on the horizon that could lead to higher gilt yields, although not everyone is convinced. A smoother exit from the EU could mean further interest-rate increases from the Bank of England, while the U.K. Prime Minister has also signaled an end to austerity, raising the prospect of more debt issuance. Added to this is inflation risk, with signs of domestic wage pressures and the August inflation print coming in higher than forecast.
U.K. Inflation Hawks May Be Missing the Big Picture on Brexit
The move lower in gilts is also part of a wider sell-off in government bonds, with euro-area yields dragged higher on continued Italy risk and expectations of further hawkishness from the U.S. Federal Reserve.
The U.S. Treasury 10-year yield touched the highest since 2011 earlier this week, while Italian bonds continued to sell off after Deputy Prime Minister Matteo Salvini said the European Commission's Jean-Claude Juncker and Pierre Moscovici ruined Europe and Italy.