Pound Rallies Most Since April 2017 on Faster Rate-Hike Bets
(Bloomberg) -- The pound headed for its biggest rally in about 18 months as the Bank of England signaled a faster pace of interest-rate hikes and investor hopes for a Brexit deal rose.
Sterling extended gains and gilts fell as the central bank said the economy may start running hot from late 2019, although it cautioned the impact of Brexit couldn't be determined. Investors have brought forward expectations for a rate hike to November next year. The U.K. currency had surged earlier after the Times reported a Brexit deal has been reached for banks, and barely trimmed gains as British and European officials denied the story.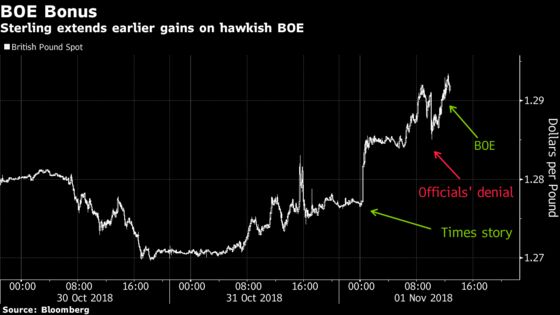 The BOE "looks a little more hawkish as it expects more excess demand, and that is before they incorporate fiscal stimulus from the budget as well," said MUFG analyst Lee Hardman. "The risks are more to a faster pace than slower as the market had been pricing in recently, assuming of course no Brexit calamity. This explains the stronger pound reaction."
The pound was up 1.9 percent at $1.3009 at 1:45 p.m. in New York, gaining intraday by the most since April 2017. Ten-year gilt yields rose 1 basis point to 1.45 percent and the FTSE 350 Banks Index gained about 0.5 percent. The currency jumped on Wednesday and gilts were put under pressure after a letter was published showing U.K. Brexit Secretary Dominic Raab expected a deal to be finalized by Nov. 21.
Sterling investors opted to look through both BOE Governor Mark Carney's warnings over the impact of a no-deal Brexit and EU chief negotiator Michel Barnier's statement that the Times report on a financial services deal was misleading.
Carney said that businesses were "more wary" about Brexit and reiterated that a no-deal Brexit could result in the central bank opting for either a rate hike or a cut.
The market's positioning is still heavily short on sterling amid fears of a no-deal Brexit, leading to outsized moves on positive headlines. Options have been suggesting a rebound in the currency was due, after its worst month since May last month.
"The Carney Brexit warning was a bit more detailed than in August," said Credit Agricole head of Group-of-10 currency strategy Valentin Marinov. "Even so, the pound doesn't seem to care one bit, highlighting that the latest moves have more to do with profit taking on stretched GBP shorts rather than fundamentals."