Gilt Bulls Unfazed by End to Austerity as Borrowing Seen Falling
(Bloomberg) -- The U.K.'s eight-year fiscal austerity program may be ending, but that isn't worrying the bond market yet.
Chancellor of the Exchequer Philip Hammond may announce higher spending on the National Health Service in Monday's budget, but investors still expect him to lower the debt-sales target after tax receipts were said to exceed estimates. The Debt Management Office will cut its issuance plan for the fiscal year 2018-2019 by 5 billion pounds ($6.4 billion) from the 106 billion pounds goal set in April, according to the median estimate in a survey of nine primary dealers.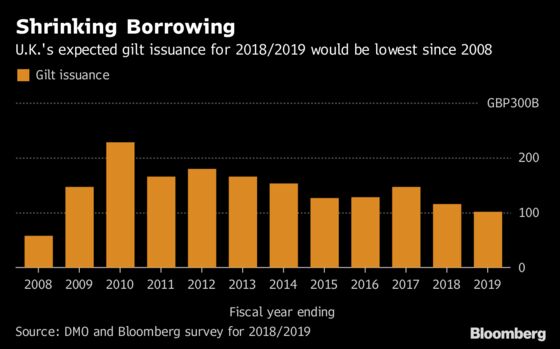 Benchmark gilt yields have retreated from a 33-month high reached earlier this month, and strategists say a drop in debt supply could support the market while lingering Brexit uncertainty also fuels demand for government debt. U.K. Prime Minister Theresa May committed this month to ending austerity -- still, Hammond may meet new spending goals through tax changes.
"Lower issuance this year coupled with minimal revisions to the next fiscal year should come as a sign of relief for gilt investors, which, on balance, should bode well for the long-end," Royal Bank of Canada strategists including Vatsala Datta wrote in a research note. "However, Brexit politics is likely to remain the bigger driving force."
Analysts say investors should enjoy any easing in supply while they can, as gilt issuance may pick up in 2019-2020 due to higher refinancing requirements and a potential increase in borrowing. Ten-year gilt yields were at 1.41 percent Friday morning, after having climbed on Oct. 10 to 1.75 percent, the highest level since January 2016.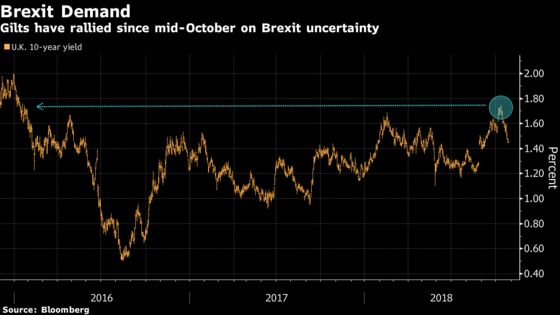 Here's a roundup of analysts views heading into Monday's budget:
While "the outlook for U.K. fiscal policy has been the subject of more intensive and fundamental debate in recent weeks," analysts including U.K. rates strategist Adam Dent see the Chancellor sticking to tight policy in this budget
Expect a decline in gilt sales to 104.6 billion pounds with the unallocated portion of this year's supply most likely to take the hit
An improved near-term borrowing outlook will help reduce the step-up in gilt issuance in 2019-2020 rather than materially cut supply for this year

Would advocate leaving this year's supply unchanged given "daunting remit" next year

With gilt sales set to rise around 40% next year, spreads will tighten and "10-30y gilts may well have a surprise in store as they come to shoulder more of the burden"
The budget "is likely to reveal a lower financing need (by about 7 billion pounds) for the current fiscal year," strategist Christian Schulz and analyst Jamie Searle write
Sees revised gilt issuance of 99.4 billion pounds for 2018-19
Main worry is that "rebellious Tory MPs or the Northern Irish DUP may vent Brexit anger and potentially trigger a government crisis by voting the Chancellor's plans down"

The budget is not likely to move the market unless it becomes part of the political gamesmanship
This will likely be "a wait-and-see budget", according to strategists including Shreya Chander, with the Chancellor likely to postpone firm spending commitments until Brexit is resolved
Expect gilt issuance broadly steady with next year's supply picking up but by "much less than expected at the spring statement," which could "surprise the market"

Also see a risk that the DMO will opt not to allocate its remaining balance this year, meaning issuance next year would increase

Suggest investors maintain 10s30s UKTi flatteners and 5s30s conventional flatteners, given that gilt issuance will likely surprise to the downside versus expectations from earlier this year
"The decision to bring forward the 2018 Budget to October, ahead of any Brexit agreement, means it is likely to amount to something of a holding pattern," economist Ross Walker and currency strategist Paul Robson write
See net financing requirement at 98.2 billion pounds
Expect the unallocated portion of gilt issuance to be reduced but see the allocation of gilt issuance across the curve unchanged
Issuance will fall to 102.5 billion pounds on the back of a 3.5 billion pounds reduction in unallocated gilt sales, analysts including rates strategist Moyeen Islam say
"We would expect to see some strength in gilt asset swaps due to the cut in issuance and possibly an outperformance of shorter dated spreads due to the reduction in bill issuance, which would see some slight premium going into shorter dated instruments"
"In the strip of Gilt/OIS ASW one-year forwards, five-year spreads stand out as cheap relative to their peers and may well find tactical support into the budget. However, the medium-term structural picture for asset swaps is more mixed"