Gillibrand Defends Call for Cuomo Resignation as 'Opinion'
(Bloomberg) -- U.S. Senator Kirsten Gillibrand defended her call for New York Governor Andrew Cuomo to resign over sexual-harassment allegations, saying she was expressing "an opinion" about "credible" complaints from at least six female accusers.
Gillibrand made her comments Friday while answering questions from a female caller on WNYC Radio's Brian Lehrer program. The caller asked why Gillibrand and Majority Leader Chuck Schumer joined other Democrats in demanding the resignation without allowing "due process" of the accusations against the governor.
"I'm not here to decide on penalty or punishment," Gillibrand said. "I'm really here to say -- Do I believe these women and do I think that conduct is inappropriate? And my answer is, 'Yes.' So, it's just an opinion."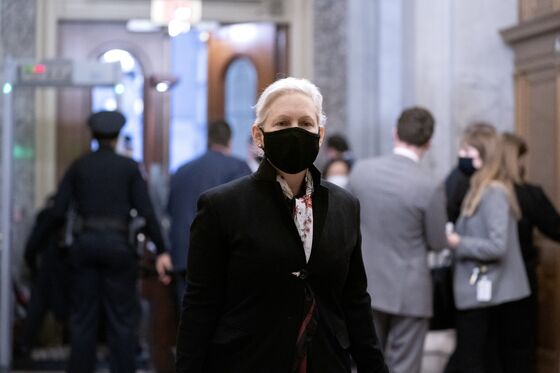 Cuomo has denied all claims and refused to step down. He has urged New Yorkers to wait for the results of two government investigations.
Gillibrand, who's been outspoken about sexual assault in the military while serving as the top Democrat on the Senate Armed Services Committee's personnel panel, said Cuomo has lost the support of allies he needs as the state grapples with the Covid-19 pandemic.
"When your job has to be focused on solving these so many problems, I think it's very hard to do that job if you do not have the support of your governing partners, that you do not have the confidence of your assembly members or your state senator members," Gillibrand said, adding that the allegations "are very similar in nature" and "credible."
The state legislature started an impeachment inquiry that could lead to the governor's removal. Some of his accusers have criticized the appointment of Davis Polk & Wardwell LLP to lead the probe because a retired partner at the law firm was a Cuomo appointee and is married to the state's chief judge. Gillibrand once worked at Davis Polk as an associate.
When asked about the firm's role on Friday, Gillibrand said the investigation team includes former federal prosecutors Greg Andres and Martine Beamon, and Angela Burgess, a white-collar defense and investigations lawyer. "They're among the three most highest integrity lawyers that I know," she said. "This is an outstanding team who will take this extremely seriously, and will probably take their time to do a thorough investigation."
Judiciary Committee Chair Charles Lavine, a Democrat, has said the impeachment investigation could take "months rather than weeks."
New York Attorney General Letitia James is conducting an investigation into sexual harassment claims against Cuomo, while federal prosecutors in Brooklyn, New York, and the FBI are investigating the administration's decision to withhold information about Covid-19 deaths in nursing homes.