Gibraltar Betting Firms Play for High Stakes in Champions Final
(Bloomberg) -- The Champions League soccer final between Liverpool and Real Madrid is also proving to be a high-stakes game for Gibraltar's betting industry -- thanks to Brexit.
The final on Saturday in Kiev pits a Spanish team with 12 titles against the English club with five wins in a showpiece event that will draw a global television audience of millions. It's a match between heavyweight rivals that alone will rake in revenue of at least 100 million euros ($117.5 million) for gambling companies, according to H2 Gambling Capital, a London-based consultant.
Online betting firms with operations in Gibraltar will be taking bets on a Champions League final for the last time before Brexit is due to take effect next March. The British territory off Spain's southern tip may account for about a fifth of global online gaming revenue of about 40 billion euros, according to estimates by H2 Gambling Capital. Some of that business may look elsewhere as Brexit brings waves of uncertainty.
"Gibraltar has developed a large pool of skilled people and experience around the industry -- it's created a genuine hub effect," said Peter Howitt, chief executive of the Gibraltar Betting and Gaming Association. "When the U.K. leaves the EU, Gibraltar will be leaving with it."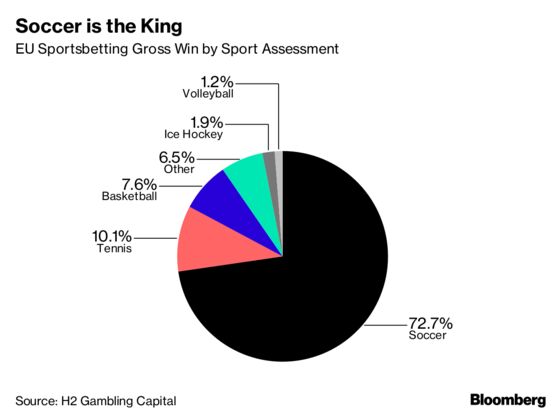 Gibraltar's online gaming world got a jolt when the Sunday Times of Malta newspaper reported that Bet365 Group Ltd was preparing to relocate operations to Malta from Gibraltar after Brexit. Gibraltar's Gambling Minister Albert Isola said on May 20 that the Stoke-on-Trent, U.K.-based firm had directly confirmed that it was "totally committed" to Gibraltar and its workforce there.
"Due to regulatory developments in various jurisdictions and the evolving global regulatory environment for online betting and gaming, we have decided to increase our existing presence in Malta," the company said in an emailed statement. "We will be retaining our strong presence in, and commitment to, Gibraltar where our main operational hub is based."
Gibraltar decided to court online gaming firms by designing a business-friendly environment with a stable jurisdiction, said Howitt. About 3,000 people work in the industry, according to the European Gaming and Betting Association.
"If you're going to do business you need a jurisdiction with controls in place," said Howitt. "These companies were looking for a good home to do business and Gibraltar provided that."
For now, Gibraltar is maintaining that it's still the right place for betting companies. "Gibraltar remains the jurisdiction of choice for the most reputable gaming companies in the world," said Isola in a statement on the Gibraltar government's website. "Brexit isn't going to change that."
Still, one of the biggest concerns facing operators is what might happen to freedom of movement of workers across the border when Brexit happens, said Howitt. Gibraltar's 2 billion pound ($2.67 billion) economy relies on cross-border workers coming from Spain for about 50 percent of its labor force. With the final terms of Brexit still to be fixed -- including a transition period that's due to last from next March to December 2020 -- firms want certainty on the final arrangements, said Howitt.
In its 2017 annual report, 888 Holdings Plc, a gambling firm, said that Brexit may mean it becomes ineligible to hold regulatory licenses in certain European Union jurisdictions. The company said it was proceeding with its back-up plan of obtaining a gaming license in Malta so that it could continue to serve European markets without disruption.
"It's hard to tell what the impact of Brexit on the online gaming sector in Gibraltar will be, but the continuing uncertainty of the Brexit discussions is not good," said Maarten Haijer, Secretary General of the EGBA in an emailed statement. "Like all other industries potentially affected by Brexit, the online gaming sector and the people employed by it really need clarity on what the future relationship between the U.K. and EU will be."