Ghosn Fate at Car Group Divides Nissan as Renault Wavers
(Bloomberg) -- Carlos Ghosn's surprise arrest over allegations of financial misconduct has left the Renault-Nissan car alliance in a bind over his future, with board members in Japan divided over whether to dismiss him as chairman and the French side balking at firing their longtime leader outright.
With a crucial board meeting at Nissan Motor Co. set for Thursday afternoon in Japan, the panel has no unanimous view on whether to dismiss Ghosn, according to people familiar with the matter. The split stems from a lack of information about the investigation, the people said. Similar views are held in Paris, where Renault's board put in place new interim leadership but nominally kept on Ghosn, saying he should be presumed innocent for now until more details become available.
The turmoil ripping through the alliance following Ghosn's stunning arrest Monday speaks to the linchpin role he played to preserve the peace in the complicated partnership. The probe has been orchestrated by Nissan as it covers alleged financial transgressions principally tied to Japan, and Nissan Chief Executive Officer Hiroto Saikawa has emerged as a driving force behind the investigation. The French side, meanwhile, had been left in the dark and was forced to respond to the fallout, including concern that the partnership itself may be in jeopardy.
The fractured response to the arrest has fueled speculation about whether Ghosn was ousted in a palace coup-like fashion, which Saikawa has denied. But Ghosn's former protege has been the most outspoken in his dismissal of his boss, saying the findings leave no conclusion other than to dismiss the star executive.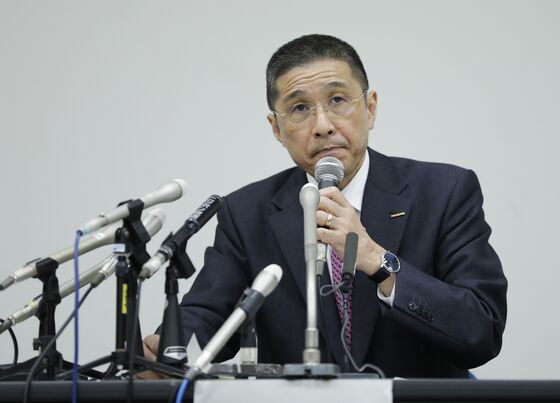 Securing a unanimous decision to oust Ghosn as chair will likely be difficult because Nissan directors who used to work at Renault may not back the dismissal until the allegations against Ghosn are made clear, according to people familiar with board members' deliberations.
Ghosn will be detained for a further 10 days, Japanese broadcaster NHK said on Wednesday. A Nissan director, American Greg Kelly, has also been accused of wrongdoing in relation to Ghosn's pay.
The Nissan directors present in the meeting will vote anonymously on a one-person-one-vote basis, and outcomes will be determined by a simple majority, according to two people briefed on the matter. That means there needs to be at least four votes in favor for motions to be carried.
The board won't name any new members to replace Ghosn and Kelly, according to the people. While the two can lose their respective roles of chairman and representative director, a shareholder vote is required to dismiss them from the board completely.
Ghosn, who was among the best-paid executives in both France and Japan, stands accused of under-reporting income of about $44 million and misusing company funds at Nissan. He hasn't commented on the allegations or been seen in public since his arrest.
At Renault's emergency meeting, the board indicated that it was in the dark about the details of the allegations.
"At this stage, the board is unable to comment on the evidence seemingly gathered against Mr. Ghosn by Nissan and the Japanese judicial authorities," it said in a statement.
His arrest has cast a shadow not only over the career of one of the most illustrious characters in the global car industry. It has also led to speculation that it would lead to a tectonic shift in the world's largest automotive partnership. The structure has been controversial in Japan as Nissan outgrows Renault in sales and profits. Renault owns a 43 percent voting stake in Nissan, which owns 15 percent of Renault -- and no voting rights.
Nissan has long been unhappy about what it considers the outsize French role, and Saikawa made reference to that perceived imbalance at his late-night Monday press conference. The French side, conversely, has been keen to maintain -- if not intensify -- the relationship. French Finance Minister Bruno Le Maire said Wednesday that the partnership is set to continue and will be deepened. As Renault's largest shareholder, the state is "totally attached to the alliance of Renault and Nissan," he said.
Interim Renault CEO Thierry Bollore said "the alliance is vitally important for Renault and we will ensure total continuity with our partners."
Ghosn himself had worked toward a merger of Nissan and Renault to solidify their two-decade-old relationship, a union that would create a direct rival to Volkswagen AG and Toyota Motor Corp. for the title of the world's largest automaker.
But with the executive in custody and his future at both the French and the Japanese company unclear, what had always seemed like an audacious plan has become even harder to pull off.