Maxwell in Shackles Pleads Not Guilty to Tough New Charges
(Bloomberg) -- It was just three words, but they were the first Ghislaine Maxwell spoke publicly in person since her arrest last July on sex crimes charges stemming from her time with disgraced financier Jeffrey Epstein.
"Yes, your honor," the 59-year-old British socialite said Friday, in leg shackles, when a federal judge in Manhattan asked if she had seen the new indictment against her. Asked if she wanted it read aloud, she said, "No, your honor."
Then her lawyer Bobbi Sternheim entered her plea to the new charges, which could send Maxwell to prison for four decades if she's convicted.
"Not guilty," Sternheim said.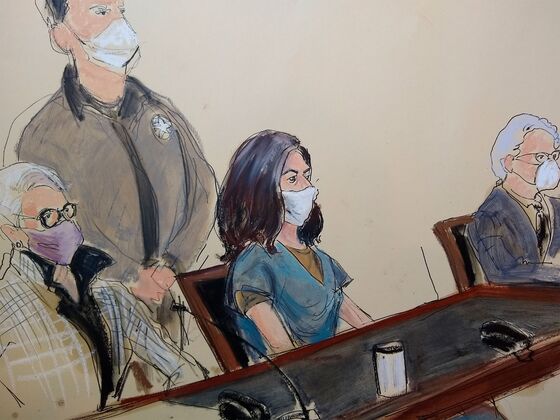 Maxwell has been held in a Brooklyn, New York, jail since her arrest in rural New Hampshire for allegedly helping Epstein procure girls for sex. She arrived at court Friday shortly before the 2:30 p.m. hearing began, in a blue short-sleeve jail shirt, white mask and black tennis shoes, and took a seat flanked by her lawyers. She looked pale, and somewhat gaunt in the prison fatigues that hung on her. Her once short black hair now reaches her shoulders and shows long gray streaks.
There were about three dozen people in the 24th-floor courtroom, including four of Maxwell's lawyers and her older sister Isabel. Also present was Epstein accuser Danielle Bensky, seated in the audience with her high-profile lawyers David Boies and Sigrid McCawley, who represent accusers of Epstein and Maxwell. Bensky said of Maxwell, after the hearing, that it was "incredibly vindicating to see her sitting there."
Prosecutors last month added another accuser to the case against Maxwell, expanded the time frame for the crimes they claim and, for the first time, charged Maxwell with sex-trafficking a minor -- a 14-year-old girl they say she manipulated into engaging in sex acts with Epstein and later paid. That charge carries a maximum prison term of 40 years, 20 years longer than the gravest charge in the original indictment.
The beefed-up prosecution is a "game changer," according to Moira Penza, a partner at Wilkinson Stekloff. "For a jury it is more compelling when you have more recent charges," said Penza, a former federal prosecutor in Brooklyn who handled the government's case against Keith Raniere, the convicted leader of the Nxivm sex cult.
Maxwell had already pleaded not guilty to the earlier charges, which included enticing a minor to travel to engage in illegal sex acts. Her lawyers have been fighting to free her on bail, saying she's been subjected to extraordinary measures in jail, including being awakened by a flashlight every 15 minutes. Epstein died in a Manhattan lockup in 2019 while awaiting trial, a death New York City's medical examiner ruled a suicide.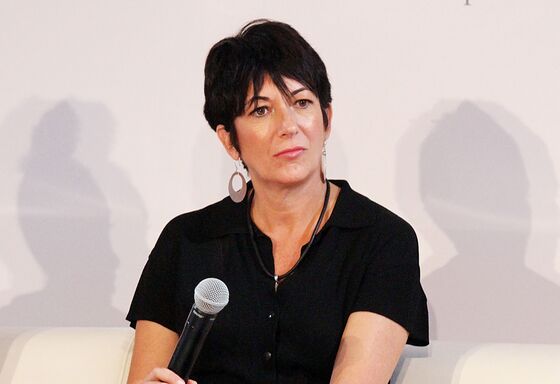 Maxwell, whose trial is scheduled for July 12, denies wrongdoing and argues that the government has made her a scapegoat for Epstein. The U.S. has taken heat both for Epstein's death, which left no one to answer for his alleged crimes, and for striking a nonprosecution agreement with Epstein in Florida more than a decade ago.
"Everybody felt they were cheated by Epstein's death, and I think everyone was looking forward to holding him accountable in a court of law," Boies told reporters after court. "I think that now that Ms. Maxwell is going to go to trial, I think that is something they're looking forward to."
Bensky's remarks came about after the press saw her outside court with Boies and McCawley and asked if she was an Epstein victim. All three said yes. Asked if she wanted to speak, Bensky walked up to the microphones. She said it had been "painful" to attend the hearing but "healing," too.
"To be honest, I was too afraid to come to the Epstein trial," she said. She said "this will provide closure for the victims," and gave the reporters her name.
In seeking to win release on bail, Maxwell's lawyers have told an appeals court that their client "is no monster, but she is being treated like one because of the 'Epstein effect.'" They have asked that the trial be pushed back so they can prepare their defense against the new charges. After Friday's hearing, they asked U.S. District Judge Alison Nathan in a filing to postpone the trial at least to November.
Maxwell attorney David Oscar Markus told reporters his client was "courageous" and is "looking forward to fighting."
"It was not easy to come to court," said Markus, who is representing Maxwell in her appeal for release on bail. "She was woken at three in the morning." In addition to her sister's support, he said, Maxwell's brothers Ian and Kevin tried to travel to New York from the U.K. for the hearing but were blocked by Covid restrictions. "They are behind their sister 1,000%," he said.
Sternheim declined to comment after court.
Prosecutors, who describe Maxwell as having been in "an intimate relationship" with Epstein for years, claim she played a critical role in "normalizing" the alleged abuse by befriending the girls, taking them shopping and to the movies, and undressing in front of them for sexualized massages with Epstein. Minor Victim-4, as she is called in the new indictment, was about 14 when she met Epstein and Maxwell in Palm Beach, Florida, in 2001, according to the government. The U.S. says Maxwell groomed her for sexual encounters with Epstein over a three-year period.
Maxwell has been in the federal Metropolitan Detention Center in Brooklyn since her July 2 arrest at a secluded, 156-acre property in Bradford, New Hampshire, to which the FBI said she had "slithered away." She made a virtual court appearance shortly after her apprehension.
The case is U.S. v. Maxwell, 20-cr-00330, U.S. District Court, Southern District of New York (Manhattan).