Ghislaine Maxwell Is Also Under Investigation in U.S. Virgin Islands
(Bloomberg) -- Ghislaine Maxwell is also under investigation by the U.S. Virgin Islands for her alleged participation in Jeffrey Epstein's sex-trafficking operation.
The Caribbean territory gave notice of its investigation in a court filing Friday in which it seeks to intervene in a lawsuit she filed against Jeffrey Epstein's estate. The socialite sued earlier this year seeking reimbursement for legal fees she was incurring, claiming Epstein had repeatedly promised her that he would support her financially.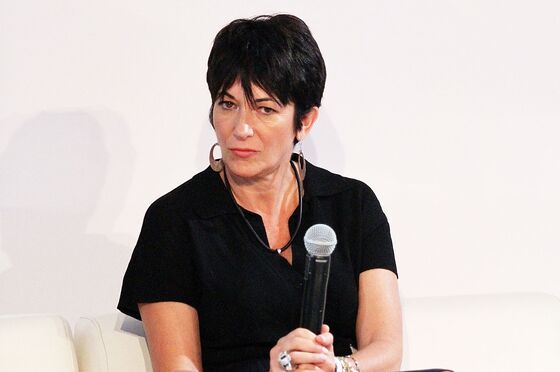 The island's Department of Justice "is investigating Maxwell's participation in Epstein's criminal sex trafficking and sexual abuse conduct," according to the July 10 filing. It's also using the case to subpoena Maxwell, a process the government said she has evaded since March.
"The government's need to intervene is further fueled by Maxwell's inappropriate use of the Virgin Islands courts to seek payment and reimbursement from the Epstein criminal enterprise, while she circumvents the service of process of government subpoenas related to her involvement in that criminal enterprise," the filing states. Epstein was a resident of the Virgin Islands for more than 20 years and owned two islands -- Little St. James and Great St. James -- which the government said it's seeking to claim as part of its legal effort.
David Cattie, a lawyer representing Maxwell in the Virgin Islands, didn't immediately return a call and email seeking comment about the investigation. Mark Cohen, a lawyer for Maxwell in her criminal case in New York, also didn't immediately respond to requests for comment.
Maxwell, the daughter of late British publishing tycoon Robert Maxwell, faces multiple charges in the U.S. including allegations that in the 1990s she lured girls as young as 14 for sexual encounters with Epstein, her former associate and lover. She has been in U.S. custody since her arrest this month in New Hampshire. Epstein died last year in a federal jail in Manhattan while awaiting trial on federal sex-trafficking charges.
Maxwell, 58, is due to enter her plea in New York on Tuesday. Her legal team has requested she be freed on $5 million bail as she awaits her trial, but prosecutors have called her an extreme flight risk.
Ariel Smith, assistant attorney general in the Virgin Islands, didn't immediately respond to a call and email requesting comment.