Yields Rise as Ghana Considers $10 Billion Century-Bond Sale
(Bloomberg) -- Ghanaian Finance Minister Ken Ofori-Atta said the country is preparing to sell $5 billion to $10 billion in century bonds by the end of the year at a time when rising U.S. rates are making investors wary of emerging-market debt. Yields on the West African nation's existing Eurobonds jumped.
In what will be the world's biggest sovereign issuance of 100-year dollar-denominated securities and the first by an African country should the deal proceed, Ghana is planning to raise the debt as the first tranche of a $50 billion bond, Ofori-Atta said in an interview Tuesday in the capital, Accra. The $50 billion will be raised "in bits" through a shelf offering, which allows issuers to a register a security without selling the entire issue at once, said Ofori-Atta.
The sale will help Ghana to pay off existing debt, build factories and overcome an estimated shortfall of $7 billion in annual infrastructure spending, said Ofori-Atta. More detail will be made public when he presents the country's budget for 2019 to lawmakers on Nov. 15, said Ofori-Atta.
"It sounds optimistic," Kieran Curtis, a money manager in London at Aberdeen Standard Investments, which owns Ghanaian bonds, said by telephone. "It's difficult to believe there is $10 billion of demand out there. This would be outside what you'd expect for their financing needs."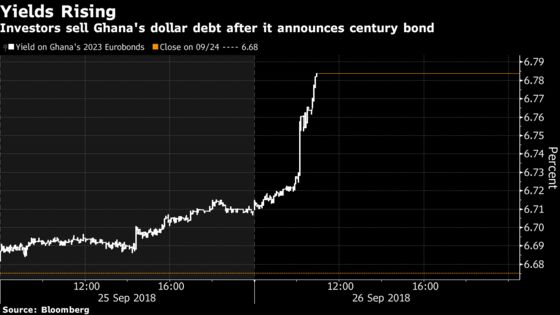 Ghana's plan comes at a time when emerging-market dollar-bond sales are dwindling as rising U.S. rates dampen investor appetite for high-yielding assets. Average yields on emerging-market dollar debt have climbed almost 100 basis points since April amid a sell-off sparked by crises in Argentina and Turkey, according to Bloomberg indexes.
Ghana's Eurobonds were the worst performers in Africa on Tuesday, according to data compiled by Bloomberg. Yields on $1 billion of debt maturing in 2023 rose further on Wednesday, increasing 7 basis points to 6.78 percent by 11:00 a.m. in London.
The cedi weakened beyond 5 per dollar for the first time. It pared losses to 4.9299 by 10:45 a.m. in London, which extended its depreciation this year to 8.3 percent.
Only China, Argentina and Mexico have previously issued 100-year dollar debt, of which Mexico's $2.7 billion deal in October 2010 was the biggest. Argentina, which like Ghana is rated B by Fitch Ratings Ltd., sold a $2.75 billion century deal in June last year. But that was "done in much better market conditions," said Curtis.
Argentina is also a much bigger economy. It's gross domestic product of $637 billion in 2017 was almost 14 times Ghana's output, which was $47 billion, according to Citigroup Inc.
An issuance by year-end will be Ghana's second sale of Eurobonds in 2018 after it raised $2 billion in 10- and 30-year securities in May. Earlier this year, the country weighed selling so-called Panda bonds in mainland China and Samurai notes in Japan before abandoning the idea.
"My main concern about this potential issue is not that it is a century bond, but the huge size," Gregory Smith, a fixed-income strategist at Renaissance Capital in London, said in a tweet. "Ghana is still at high risk of debt distress, despite the recent hard work and policy measures to tame the fiscal deficit."
Ghana is in the final year of an almost $1 billion bailout program with the International Monetary Fund that started in 2015 after the value of the cedi collapsed and debt ballooned.
Total public debt measured 65.9 percent of gross domestic product at the end of July, compared with 67.4 percent at the same time in 2017, according to the central bank's data. External debt totaled $18.2 billion, 54 percent of the total, according to the central bank.