Ghana Keeps Key Rate at 4 1/2-Year Low With Inflation in Target
(Bloomberg) -- Ghana's central bank kept its benchmark interest rate at a 4 1/2-year low for a third consecutive meeting as the currency stabilized and inflation remain within its target band.
The Bank of Ghana maintained the rate at 17 percent, Governor Ernest Addison told reporters Monday in the capital, Accra. All eight economists surveyed by Bloomberg forecast the hold.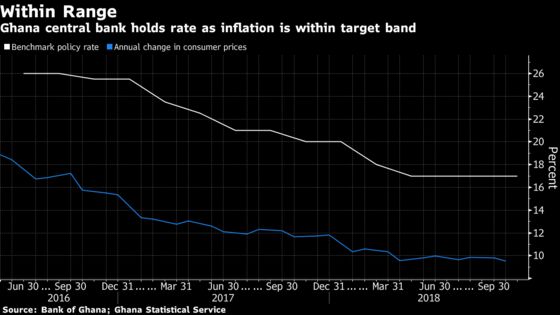 Underlying inflation pressures are easing, Addison said. The recent oil plunge is a downside risk, he said.
Inflation has been below the upper end of authorities' target of 6 percent to 10 percent since April. It's expected to stay there in the medium term, Addison said. Price growth slowed to 9.5 percent last month, the lowest rate in at least six years.
The currency weakened 12 percent against the dollar from a 2018 strong point in March, but has reversed some losses, gaining 2.1 percent since Oct. 1.