Ghana Said to Target Swift Sale of $3 Billion in Eurobonds
(Bloomberg) -- Ghana is favoring a sale of as much as $3 billion in Eurobonds this quarter as the country seeks to finance its budget and reduce borrowing costs, according to two people familiar with the matter.
While the West African nation's budget requires net foreign financing of 9.8 billion cedis ($2 billion), it will seek an additional $1 billion if it's able to issue debt at lower rates than what it's paying for some existing bonds, said the people, who asked not to be identified because the information isn't public. The finance ministry will begin to appoint transaction advisers later this month, said the people.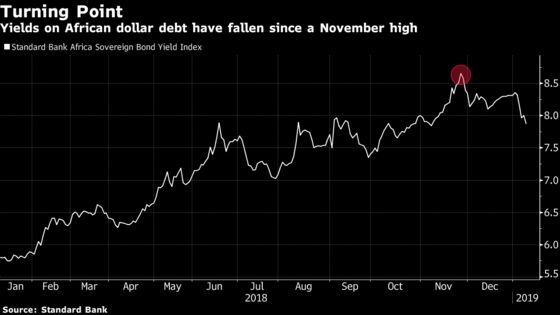 Finance Minister Ken Ofori-Atta didn't answer calls seeking comment.
Ghana wants to return to the market at a time when U.S. rates are near one-year lows, even though an ongoing trade war between the world's biggest economies is curbing appetite for risky assets. The average yield on dollar bonds of African countries climbed more than 90 basis points since Ghana's last issuance of $2 billion in bonds in May.
Yields on the nation's $1 billion of securities due in 2030, which were sold at 10.75 percent four years ago, rose seven points to 8.84 percent in London on Thursday.