Germany's New Coronavirus Cases Rise the Most in a Week
The number of new coronavirus cases in Germany rose the most in a week, just days after the government declared the first phase of the pandemic to be over.
There were 1,268 additional infections in the 24 hours through Friday morning, according to data from Johns Hopkins University. That is the third day of rising cases and brings the total number to 169,430.
Germany is preparing to open restaurants, hotels and all shops as well as to restart professional soccer games as Chancellor Angela Merkel on Wednesday declared some progress in fighting the virus, which so far has caused 7,392 deaths in the country after 117 new fatalities were reported on Friday.
Although many lockdown measures are being gradually phased out, social-distancing rules were this week extended until at least June 5. To contain hot spots, Merkel also insisted on a threshold on local infection rates. Restrictions will be reinstated if an area records more than 50 new cases per 100,000 inhabitants in a week.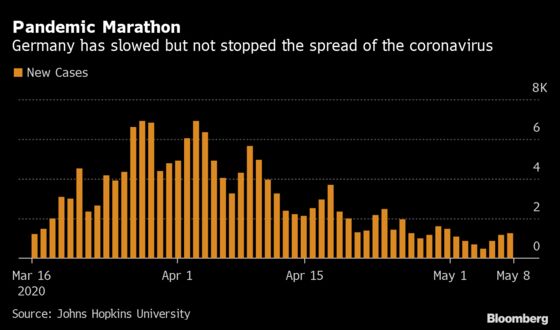 The eastern German district of Greiz in Thuringia became the first local area to breach this threshold, but regional politicians have said they are still planning to go ahead with the easing measures.
European leaders are feeling the pressure to accelerate a return to normality and are trying to walk a fine line between reactivating the economy and avoiding a renewed outbreak. France on Thursday joined Germany, Italy and the Netherlands in easing restrictions as Europe's economic pain from the fallout of the coronavirus intensifies.
Industrial production dropped 9.2% in March in Germany, presaging even grimmer figures for April when millions of people were all but confined to their homes.
Germany's so-called reproduction factor, which reflects the number of additional coronavirus cases directly generated by one infected person, also began to creep up again. The number -- known as R-naught -- increased to 0.71 from 0.65 the previous day, according to the latest situation report from the country's public health authority published Thursday evening. This means that 10 infected people will infect about 7 others, from between six and seven the previous day.
The government is closely tracking R0 as the goal is to keep that number low to avoid exponential growth and overloading the health-care system.