Germany Offers $1.3 Billion to Namibia to Atone for Genocide
(Bloomberg) -- Germany will recognize colonial-era mass killings in Namibia as genocide and offer 1.1 billion euros ($1.3 billion) in aid as a gesture of atonement.
German and Namibian negotiators concluded an agreement on Friday after more than five years of talks. Namibia accused German colonial rulers of committing genocide against the Herero and Nama between 1904 and 1908.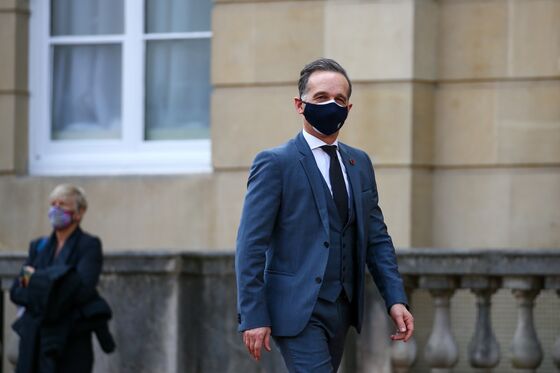 "We will now describe these events officially as what they were from today's perspective: genocide," German Foreign Minister Heiko Maas said in a statement. While the accord doesn't open the door to reparation claims, the communities affected by the genocide will have a say in the aid program, he said.
Germany occupied Namibia from 1884 until 1915. The League of Nations then handed control to South Africa, which had defeated German forces defending the territory, and it ruled until independence in 1990. The largely arid nation is bigger than Germany and Italy combined, has a population of 2.5 million -- about 7% of whom are Herero and 5% Nama -- and among the world's highest levels of inequality.
During colonization, uprisings by the Herero and Nama peoples culminated in a German policy to reduce the numbers of the native population and their imprisonment in concentration camps. A campaign led by General Lothar Von Trotha to suppress a Herero rebellion led to the deaths of as many as two-thirds of the estimated 80,000 Herero population through murder, disease and forced starvation, according to the German History Museum.
Chief Vekuii Rukoro, the leader of the Herero nation, said Friday the amount offered by Germany was insufficient and that his community wasn't party to the talks that led to the accord.
"The entire agreement is not accepted," Rukoro said by phone. "The entire process to us is not acceptable because it is a process that concerned us without us taking part."
Zed Ngavirue, the leader of the Namibian team that negotiated the agreement with Germany, didn't immediately respond to a request for comment.
Ten years ago, Germany returned 20 skulls to Namibia that were taken from the country for research with the aim of proving the superiority of European brains over those of Africans, according to Namibia's Information Ministry.
"German colonial policy is a shameful chapter in our history," Nils Schmid, foreign policy spokesman for Germany's Social Democratic Party, said in an emailed statement. "The committed funds of more than 1 billion euros improve prospects on the ground. They are an important gesture, but do not bring final closure or buy freedom from guilt."